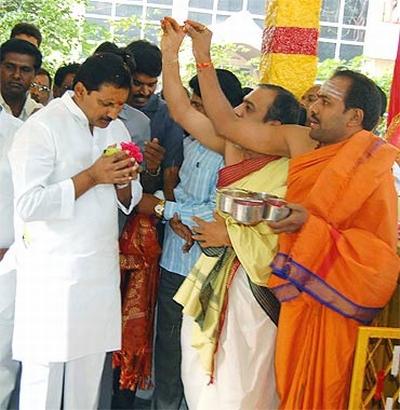 All India Congress Committee General Secretary Digvijaya Singh will preside over a meeting of the Congress Coordination Panel with Andhra Pradesh Chief Minister Kiran Kumar Reddy on Friday evening.
The meeting will be held at 15, Gurudwara Rakab Ganj Road -- popularly known as the 'War Room' of the Congress.
The meeting will focus on the division of Andhra Pradesh and creation of Telangana.
Reddy has openly opposed the Centre's decision to carve up the state.
In the meeting, Singh is expected to refer to the Congress Working Committee's resolution on Telangana and urge Reddy to adhere to the party's official policy.
Reddy may walk out of the Congress to form a regional party in Andhra if the Centre insists that he move the resolution for the creation of Telangana in the state assembly.
Andhra Pradesh Deputy Chief Minister Damodara Rajanarasimha, Pradesh Congress Committee chief Botsa Satyanarayana, former Union minister Chiranjeevi and secretary-in-charge of Andhra, Tirunavukarasar, will be present at the meeting.
Congress President Sonia Gandhi's political secretary Ahmed Patel is expected to join the deliberations at around 8 pm.
Speculation is rife that Reddy may try to turn the meeting into a media event by leaving the venue in a huff, to play to the gallery for the voters from Seemandhra region, who are staunchly against the division of the state.
Image: Andhra Pradesh Chief Minister Kiran Kumar Reddy