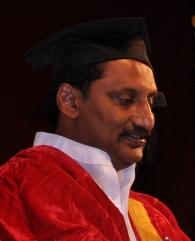 The Andhra Pradesh chief minister has just witnessed his state's division and the idea of leaving the Congress to launch a regional party might leave him with nothing, says Aditi Phadnis
This is Andhra Pradesh Chief Minister N Kiran Kumar Reddy's worst nightmare come true. Not only has his state been divided under his very nose, but also his bitterest rival has been let out of jail.
Reddy could have handled the Telangana terror and the Telugu Desam troublemakers. But now Y S Jagan Mohan Reddy is out and is creating merry hell; on top of that the chief minister has the Centre to contend with, which is keeping its beady eyes on his activities.
The charge of collusion with the striking power sector employees in Seemandhra is being made by responsible quarters. And then there's Jagan Mohan sitting on a fast against the division of the state… it can't get worse than this.
To appreciate the chief minister's mountain of problems, he has to be understood in his own context.
Nallari Kiran Kumar Reddy is the son of a well-known Congress politician from Chittoor, Rayalaseema, Amarnath Reddy. KK was plucked out of the arid badlands scoured by the clash of competitive Reddy feudalism and sent to Hyderabad to study, where he grew up.
Though not particularly articulate, the Reddy faction that his father commanded urged him to enter politics after his father died to protect the family silver. And though his father and YSR were rivals, (remember, YSR belonged to the Kadapa district also in Ralayaseema) YSR tried not to extend that rivalry to the son -- but found his own son protesting fiercely every time KK's name was proposed for ministership.
So, KK became chief whip of the Congress Legislature Party from 2004 to 2009; and later, Speaker of the Assembly. He is wealthy, but in Hyderabad lingo, not "super rich" (his affidavit proclaimed he owns property amounting to Rs 8 crore and no business interests). He is married to money.
KK has contested state elections five times and has lost just once. He is considered a smooth behind-the-scenes operator: soft-spoken but clever. He has some powerful backing at the Centre: not just the AP Governor E S L Narasimham, but also some Union ministers who supported his elevation to chief minister, including Finance Minister P Chidambaram.
KK's chance came after YSR's death and his successor K Rosaiah's inability to provide leadership in the vacuum left behind. Rosaiah was a victim all round: he couldn't rise to the task of being chief minister, had to suffer sniping from Jagan who would not be denied the top job; and the designs of KK.
It was KK who provided regular reports of Rosaiah's leadership failures to the Delhi High Command. When these reports were processed, a strong school of thought in Delhi said: why don't we give the job to him.
The thinking was that KK would be able to stop Jagan in his tracks in Rayalaseema and cut a swathe through his clansmen. No one thought of the fact that KK had no following worth the name in Rayalaseema, no group that he could call his own, and that this one move would be the one that would force Jagan to the tipping point.
Not only was Kiran Kumar Reddy appointed chief minister, but he also rapidly began repackaging YSR's populist schemes as if they were his own ideas. Obviously, Jagan and his followers saw through this and began yelling blue murder.
Watching all this, Congressmen also began decamping to the Jagan camp. KK was unable to stem the bleeding. The declaration of Telangana was the last straw.
What is worrying is the latest set of charges. After a meeting of the striking AP employees and the chief minister, Member of Parliament L Rajagopal made the astonishing public assertion that the chief minister was actually encouraging the striking employees, for he wanted to be on their side and show he was against Telangana.
AP's former director general of police Dinesh Reddy, who retired on September 30, had more dirt on the chief minister. At a press conference, he said he was retired after he objected to the chief minister's brother's land grab activities. The CM also tried to pressure him to tell the Centre that the Telangana should not be allowed because it would lead to a fillip in Left wing insurgency,
He added for good measure, "As chief minister, he is a failure. He is working only to fulfill his personal agenda".
Enough to take your breath away?
Now, Kiran Reddy is said to be considering leaving the Congress and launching a regional party to retain what little he has. Observers of AP politics say if he does that he will have what he has always had: nothing.