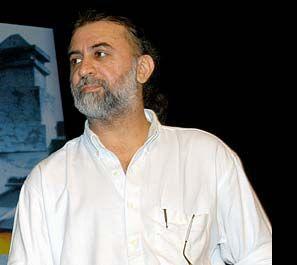 Tehelka Editor Tarun Tejpal moved the Delhi high court on Monday seeking anticipatory bail in a sexual assault case lodged against him in Goa.
Justice G S Sistani, before whom the petition was mentioned by senior advocates K T S Tulsi and Geeta Luthra, will hear the matter on Tuesday.
Tejpal, in his petition, filed through advocate Sandeep Kapur, has also sought transit bail to approach the appropriate court in Goa.
The alleged incident happened in a lift in a five-star hotel in Goa earlier this month. The Goa police had on November 22 lodged a first information report against Tejpal under Sections 376 (rape), 376 (2)(k) (rape by a person of a woman in his custody taking advantage of his official position) and 354 (outraging modesty) of the Indian Penal Code in connection with the incident.
Conviction under Section 376 of the IPC entails a maximum of life term in jail.
The issue came into the limelight when an email by the woman journalist working with the magazine alleging sexual assault was made public and Tejpal announced on November 19 that he was "recusing" from his job for six months.
On Sunday, a three-member Goa police team, which had arrived in Delhi on November 23, quizzed Tehelka Managing Editor Shoma Chaudhury and three employees who had been contacted by the alleged victim to corroborate her version.
The police also seized from the Tehelka office in New Delhi a hard disc, transcripts of emails exchanged among Tejpal, Choudhury and the journalist and other documents.