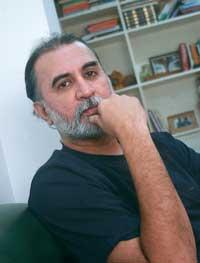 In a change of strategy, Tehelka editor Tarun Tejpal, accused of sexual assault against a woman colleague, on Thursday withdrew his bail plea in the Delhi high court, saying he will "approach appropriate court for appropriate remedy".
A day before the high court was to pass order on his bail plea, Tejpal's counsel made the plea, which was allowed by Justice Sunita Gupta who had on Wednesday reserved her order in the matter.
"We told the judge that we are withdrawing it with a liberty to approach appropriate court for appropriate remedy which also includes anticipatory bail and the court allowed our plea," advocate Sandeep Kapur, appearing for Tejpal, said.
Tejpal had stepped down as the editor-in-Chief of Tehelka for six months in the wake of the sexual assault case against him.
Fearing arrest by the Goa police in connection with the case, Tejpal had approached the high court seeking either anticipatory or transit bail. He was summoned by the Goa police to appear before it by 3 pm on Thursday.
Tejpal, in the meantime, wrote a letter to the Goa police saying that he is ready to cooperate in the investigation and sought two days time to appear before it. He said that he will be reaching Goa on Saturday afternoon.
Amidst speculation that Tejpal might approach the Supreme Court, his wife, daughter and some close friends were seen in the apex court in the morning along with his counsel Geeta Luthra and Kapur.
Kapur, however, said that Tejpal is not planning to move the apex court in the matter.
Tejpal had on Wednesday failed to get any immediate relief on his anticipatory bail petition in the Delhi high court. The Goa police's direction to him came after the victim, who has alleged that she was sexually assaulted by him in a lift in a five-star hotel in Goa earlier this month, recorded her statement under Section 164 of CrPC before a magistrate in Panaji.