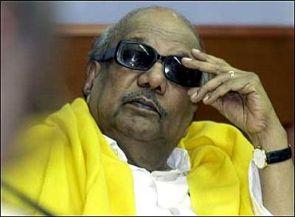 The Tamil Nadu government on Wednesday filed a defamation case against former chief minister and Dravida Munnetra Kazhagam chief M Karunanidhi in a Sessions Court in Chennai.
City Public Prosecutor M L Jegan filed it over a news item which appeared under the title 'Question and Answers' by Karunanidhi in the DMK mouthpiece Murasoli in its issue dated August 24, 2013.
According to the CPP, in one of the replies, Karunanidhi said advertisements given to a Tamil daily was stopped by the state government only because it published pictures of state ministers who were asleep at a function, where the chief minister was the chief guest.
Jegan said the answer given by Karunanidhi per se was defamatory and filed the defamation case.
This is the 12th defamation case filed against Karunanidhi since the All India Anna Dravida Munnetra Kazhagam government came to power in 2011.