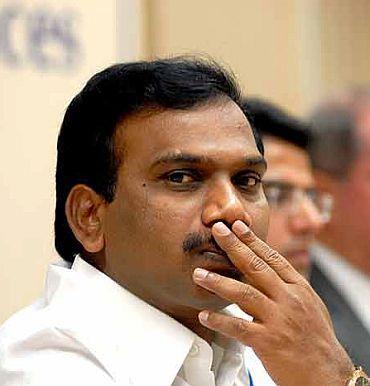 Firmly backing DMK leader A Raja, prime accused in the 2G scam, in the wake of the controversy over filling of vacancy in the Joint Parliamentary Committee, the party today asserted it will not allow him to be made a "scapegoat".
"We will not make anyone a scapegoat. If whoever tries to make Raja a scapegoat, we will not allow that," Dravida Munnetra Kazhagam President M Karunanidhi told reporters in Chennai. He was responding to a question whether filling of vacancy in the JPC created by retirement of DMK MP from Rajya Sabha Tiruchi Siva by someone from another party, was an effort to make Raja a scapegoat in the Rs 1.76 lakh crore scam.
Asked why none from DMK was recommended in the JPC, the 90-year-old leader explained that the members were drawn based on a party's strength in Rajya Sabha and pointed out that the JPC was ready with its report. "It is time for the submission of the report. It will be good if there are no problems in that," he said.
The P C Chacko-led Joint Parliamentary Committee on 2G scam will get a fresh extension beyond September 6 with the Lok Sabha unanimously adopting a resolution to this effect on Wednesday. Its term will be extended till the end of the winter session. The move to extend the term of the 30-member panel came days after sharp differences between government and the Opposition over nomination of two Rajya Sabha MPs, Congress member P Bhattacharya and nominated member Ashok S Ganguly.
The entry of Ganguly, who is perceived to be close to the Congress and comes in place of the DMK member Siva, will tilt the balance in the panel and will be crucial in the event of voting.
Karunanidhi also scotched reports suggesting that his daughter and Rajya Sabha MP, Kanimozhi, had held talks with Congress Vice President Rahul Gandhi over alliance. "There is no truth in that. It was a report released by (media) friends like you. She did not talk about alliance related politics with Gandhi," he said.