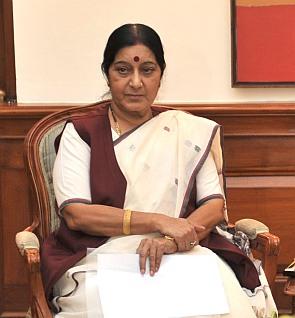 Sushma Swaraj arrived in Bangladesh capital Dhaka on Wednesday night on her first official visit abroad after becoming External Affairs Minister during which she will hold talks with the top leadership on key bilateral issues including land boundary agreement, proposed Teesta river pact and illegal immigration.
Swaraj arrived in Dhaka for the two-day visit accompanied by Foreign Secretary Sujatha Singh and other senior officials.

Bangladesh's Foreign Minister A H Mahmood Ali received Swaraj at the VIP lounge of the HazratShahjalalInternationalAirport.
Indian High Commissioner in Dhaka Pankaj Saran and Bangladesh Foreign Secretary Shahidul Haque were among others present at the airport.
Ahead of her visit, Swaraj spoke to West Bengal Chief Minister Mamata Banerjee about the two-day trip.
According to official sources, Swaraj made a call to Banerjee to "touch-base" and tell her about the visit.
Though there are no pacts to be signed and no big expectations, the trip, which is termed as a "goodwill" visit is aimed at taking forward the bilateral ties which are on a "positive trajectory" for past few years.

The Indian side maintains they were not going with the "shopping list" and that the minister will review the status of bilateral ties and what to expect in the coming years.
However, the Indian delegation, which is expected to raise issues like illegal immigration and market access, is also prepared that Bangladesh will raise the issues of LBA and proposed Teesta river pact.

Significantly, it was BJP's opposition, coupled with that of Trinamool Congress and Asom Gana Parishad which prevented the previous Congress from formalising the land boundary agreement and signing the Teesta water sharing deal with Bangladesh.
The LBA, which is yet to be approved by Parliament, is aimed at redrawing the international boundary between India and Bangladesh by exchanging areas of adverse possession and enclaves along with population on either side, thus making the highly incongruous and porous Indo-Bangla border more manageable.
This is Swaraj's first stand-alone foreign visit after becoming the minister. She had accompanied Prime Minister Narendra Modi during his first official visit to Bhutan earlier this month.
During the visit, the minister will hold discussions on bilateral issues with Ali and also call on President of Bangladesh Abdul Hamid and Prime Minister Sheikh Hasina.
She will also have engagement with think tanks, chambers of commerce and industry and cultural organisations.