India will raise the issue of illegal immigration, a "major cause of concern" for the country. Nayanima Basu reports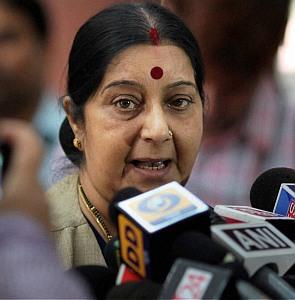 The proposed Teesta water-sharing agreement with Bangladesh is expected to get a fresh lease of life as External Affairs Minister Sushma Swaraj embarks on her first official trip to Dhaka from June 25 to 27.
During the three-day visit starting Wednesday, a whole host of issues will be taken up by the minister, who has been mandated to focus on the neighbourhood.

Sources told Business Standard that the Bangladeshi side will take up the Teesta issue strongly.

Sources added that India will raise the issue of illegal immigration, a "major cause of concern" for the country.
The Teesta water-sharing agreement has become a bone of contention between the neighbours, because of which some important bilateral issues could not be taken forward by the previous Congress-led United Progressive Alliance government.
The issue was also discussed extensively between Prime Minister Narendra Modi and Bangladeshi counterpart Sheikh Hasina during the latter's congratulatory call to Modi last month.

At that time, it was expected Modi would make Dhaka his first destination as PM. However, it was decided later that Swaraj would visit Dhaka with a power-packed agenda.
The implementation of the Teesta agreement has been on hold since September 2011, after West Bengal Chief Minister Mamata Banerjee expressed reservations over the quantum of water to be given to Bangladesh.
The Teesta River flows through West Bengal before entering Bangladesh.
The new government is determined to get this going but it has to take on board Banerjee because water is a state subject. Dhaka, on the other hand, has put on hold some of India's demands in the absence of the treaty.

A case in point is the delay in opening the Chittagong port for transit shipments headed for India.
India wants to use the Chittagong port for the transit of ships. At present, most of the trade through sea happens via Singapore, inflating the trans-shipment cost.
Bangladesh had announced in 2012 that it would give India access to the Chittagong port, which will provide a huge benefit for trade and development of India's northeast region, as well as to Bangladesh. India had been asking for access to this port for over a decade.
Among other bilateral issues, Swaraj is expected to achieve some milestones in areas such as river transportation and rail linkages. A new bus service between Dhaka and Guwahati is also expected to be announced, sources said.
Indian High Commissioner in Dhaka, Pankaj Saran, said the new Indian government's approach towards Dhaka in the coming months would be "largely problem solving".
Other important issues such as Land Border Agreement, creation of a power grid for transmission, other segments of energy and enhanced investments will also be taken up during the visit.
Swaraj will be accompanied by foreign secretary Sujatha Singh and foreign ministry spokesperson Syed Akbaruddin along with other officials. She will be meeting Bangladesh President Abdul Hamid, Prime Minister Sheikh Hasina, foreign minister Mahmood Ali and business chambers.