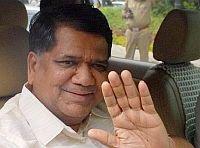 Karnataka Chief Minister Jagadish Shettar, who visited the blast site in Bangalore on Thursday following a high-level meeting with senior police officers, said there is a hand of terrorists in this attack.
Shettar was speaking with reporters following his visit to the blast site outside the BJP office in Malleshwaram.
He also added that the state police department had set up a special team to probe the matter and in the next 24 hours details of the incident will become clear.
Stringent action will be taken against the perpetrators of the attack, he noted.
"Our police is conducting a proper investigation with the help of the central agencies," Shettar added.
He said that the intent was to create a panic, and hence the bomb was planted near the BJP office.
He further said that there was no need to politicise the blasts and said that the need of the hour is to let the police do their work and bring out the clues.
"The Congress has been making reckless statements and this is not in good taste," the chief minister pointed out.