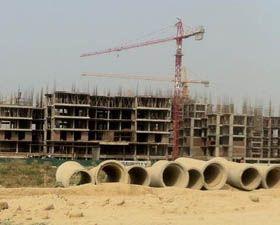 The government on Thursday clinched a "broad consensus" on the contentious Land Acquisition Bill, paving the way for its consideration and passage in Parliament in the Budget Session which resumes on Monday after a month-long recess.
"We have reached a broad consensus on the Land Acquisition Bill," Parliamentary Affairs Minister Kamal Nath and Leader of Opposition in Lok Sabha Sushma Swaraj told reporters after a 90-minute all-party meeting in New Delhi.
The government agreed to a key demand of the BJP, which had suggested that instead of acquisition, the land could be leased to developers so that its ownership will remain with the farmers and would provide them with regular annual income.
The government is learnt to have agreed to amend the Land Acquisition, Rehabilitation and Resettlement Bill, 2011, to provide for an enabling provision for states to enact laws in this regard as leasing of land was a state subject, government sources said.
However, the Left parties and DMK still have reservations on the Bill with the CPI-M demanding consent of all the families affected due to the acquisition of land.
"There is a lot of dilution from the original Bill. The current version is against the interest of farmers. We will move amendments when the Bill is taken up in Parliament," CPI-M leader Basudeb Acharia told media persons.
DMK leader T R Baalu claimed that the Bill was against the federal structure of the Constitution and his party cannot agree to it.
The DMK, which withdrew support from the UPA last month on the issue of ethnic Tamils in Sri Lanka, has been asked to make its suggestions regarding the issues related to the Bill by Friday.
The first all-party meet on the Land Acquisition Bill, which was held here on April 9, had failed to iron out the differences between the government and BJP, SP and the Left Front.
Besides Swaraj, Acharia and Baalu, Thursday's meeting was attended by Leader of Opposition in Rajya Sabha Arun Jaitley, Ramgopal Yadav (SP), D Raja (CPI), B Mahtab (BJD), Sharad Yadav (JD-U), M Thambidurai and V Maitreyan (both AIADMK).

Trinamool Congress, Akali Dal and BSP representatives were not present for the meeting.
Rural Development Minister Jairam Ramesh has been reaching out to leaders of various political parties to sort out areas of disagreement.
Over the past one week, Ramesh met BJP leaders Sushma Swaraj, Arun Jaitley and CPI-M's Sitaram Yechury, seeking their support for the Bill.
The Bill seeks to address problems of industry regarding acquisition of land for setting up projects. It provides for land acquisition, rehabilitation and resettlement of the displaced people and proposes to replace the Land Acquisition Act, 1894.