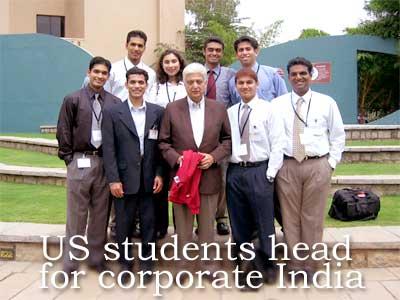 In the three months that 19-year-old Sujey Subramanian (above, first row, second from right), a Stanford undergraduate student, spent in India this summer working at Tata Consultancy Services, India's first billion dollar information technology company, he has found two things strange: arranged marriage, and the work culture.

"I can't understand how arranged marriages work. And I can't understand how employees stay as late as 11 pm at work everyday on weekdays and sometimes on weekends too," he says.

Sujey, who has lived most of his life outside India, is getting his first exposure to corporate and urban India through his internship at TCS, where he is involved in helping create the business plan for a new banking software product that the company is exploring.

Born in Chennai, Sujey moved to Hong Kong when he was two. After a high school degree there, he picked Stanford to get a dual degree in economics with management science and engineering. But he opted to return to India for his brush with the corporate world.

Why?

"There is much talk about India's power as an outsourcing hub. We discuss this between classes and in the corridors [in Stanford]. After I graduate I want to start my own company and then I will outsource to India. I want to make my connections now, which is why I decided to work in India," he says.

Like Sujey, an increasing number of students from the United States and the United Kingdom are coming to intern at top companies in India in two of the hottest fields today, information technology and biotechnology.

In the last five years, emerging markets like India and China are being seen as hotbeds of economic growth. India, specifically, has generated much interest because of the rapid growth it has charted in the IT sector. Besides, companies like Infosys, TCS and the biotechnology company, Biocon, are often referred to in the American media as the likely giants of the future.

It is not surprising, therefore, that a number of students and universities are coming to India to experience for themselves what the buzz is all about. Institutions like Stanford,  Massachusetts Institute of Technology's Sloan School of Management, Johns Hopkins, Harvard and Cambridge have sent their students to intern in India.

Stanford has instituted the Stanford Asia Technology Initiative, a programme that seeks to foster entrepreneurship by offering students a chance to work in a real world venture in Asia. The Stanford ATI programme offers placements in Bangalore, Tokyo and Shanghai.

This year, four Stanford ATI fellows -- Sujey is one of them -- interned with Bangalore-based companies like TCS, Biocon and Infosys.

Kapil Vishwananthan, a Stanford alumnus who helped start the ATI programme, says Bangalore was added to the Asian hotspots list in 1999.

"Increasingly, Bangalore was seen as a technology hotspot. There was a lot of excitement on campus about Bangalore as a place to be seen at and to work in. Many students were interested in Bangalore because of the hype around it during the IT boom," he says.

ATI offers an all-expenses paid trip to India for its Fellows, who also get a stipend from the company.

I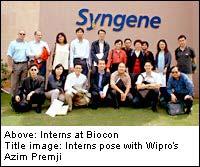 n the first year of the ATI programme, four Stanford students interned at two companies, Planetasia, an Internet technologies and services company, and Kshema Technologies, a software solutions company.

"I plan to come back to India in a few years so I wanted to experience the corporate environment here," says Minal Mehta, a 1999 ATI Fellow who interned at Planetasia.

MIT, under its MIT-India Program, also sent 16 students to work and teach at some of India's premier firms and schools in 1999. The MIT-India Program students not only work in technology companies but also in companies from other business segments.

Apart from Infosys, its students have also worked at Godrej, one of India's largest privately held companies; ICICI, India's second-largest retail bank; and Tata Iron and Steel Company (TISCO), one of India's lowest cost producers of hot-rolled steel.

According to MIT, the MIT-India Program's long term goal is to educate a group of MIT students in a manner that will equip them to build new bridges between the world's two largest democracies.

"MIT has more than 1,000 alumni who came from India to learn in the United States. We want to reverse the flow by sending our students to India to learn first hand Indian business practices, culture, technologies and problems," said Kenneth Keniston, director of the MIT-India Program and the Andrew Mellon Professor of Human Development in the Program in Science, Technology and Society. "Among these students will be men and women who have the technical knowledge and the cultural understanding needed to expand collaboration between our two countries."

MIT interns working for Indian firms receive in-country salaries and housing and are hosted either by Indian families or offered guesthouse accommodation by the companies. The MIT-India Program underwrites airfares and supplementary stipends.

'India is the world's fifth-largest economy and the world's largest democracy. It has an ancient civilisation, vast potential and enormous problems. Its economy is opening up and it has withstood the shocks that have recently shaken Southeast Asia. It is an increasingly important centre of knowledge creation in science and technology. MIT has long and deep ties with India. The time is right to build on them to create an intellectually vital program of internships, exchanges and new partnerships,' commented Professor Keniston about the programme in Techtalk, the MIT magazine.

This level of interest has led companies like Infosys and Biocon to put a formal internship programme in place and create a team that will administer it.


| | |
| --- | --- |
| | Also Read |
| | |
At Infosys, the internship programme is called 'The Infosys Global Internship Program' or InStep. It was formally launched in 1999 and was one of the first institutionalised internship programmes in India.

"It was a result of the streamlining and consolidation of Infosys' already existing internship projects into a unique and full-fledged global programme," says an Infosys spokesperson.

This year the Instep program received close to 3,000 applications. Infosys has filled about 33 positions with international students.

"We are budgeting to double this programme next year and expect about 60 Instep trainees from across the world," says the spokesperson.

To the students, the sprawling Infosys' campus in Bangalore, with its pizza cafeterias, coffee shops and sleek glass buildings, seems like a world not very removed from their own in the US or the UK.

InStep has so far attracted talented students from the world's best educational institutions like MIT, Harvard, Stanford, Illinois, Princeton, London Business School, Oxford and Wharton.

"These are all young people who are doing undergraduate education in universities across the world. This programme targets the top educational institutions worldwide, providing their students with the opportunity to gain hands-on experience on real time projects for blue-chip clientele, while working with cutting edge technology," says the Infosys spokesperson.

At Biocon, internships can last anywhere between six weeks and six months in various fields like research, marketing, quality control, human resources and finance.

On an average, Biocon offers over 100 internships annually, many of which are filled by international students who get to know of the programme through the company's web site or by word-of-mouth or from others who have already interned there.

"Since we receive a large number of internship requests from both institutions and individuals we have a well-structured process for internship. Students contact our HR team through a formal system of application. They are then interviewed and chosen," says Dr Nirupam Bareja, group head, human resources, Biocon.

Biocon says many of the students who interned with them were later hired by the company.

Most companies say they ensure that students get the exposure and the highest quality of work that they can do.

"The duties that we offer are relevant to the student's area of learning or interest. For example, a person doing his or her internship in R&D would work on an R&D project in the company while interns in marketing would be sent out into the field. We not only encourage participation from interns, but we also share information freely and make them feel a part of Team Biocon," says Dr Bareja.

Though many interns say the companies treat them graciously, there are a few gripes.

Minal, for instance, wishes she had been given more responsibility when she was interning at Planetasia, while Sujey wants greater interaction with his colleagues at TCS.

The internship is not just about exposure to India's corporate life. For many interns, it's also about discovering urban India.

Ravi Pamnani (title image, second row, first from right), who is interning at Biocon, is in India for only the second time in his life. Born in the US, Pamnani says while he is enjoying his work at Biocon, the traffic jams, pollution, lack of public transport and even the lack of variety in the cuisine available locally bothers him.

Apart from internships, companies are also open to students who want to visit it and alumni groups that want to hold events that help students network with corporate czars.

Last year, Cornell University launched a 20-day tour that brought 45 students to Mahyco, one of India's largest biotechnology firm.

Students from MIT's Sloan school of Management, the University of Pennsylvania and the National University of Singapore visit the company on a regular basis.

"India is emerging as a leader in areas such as IT and biotech. Students from a biotechnology background or those interested in this field find it a matter of pride to be associated with Biocon and hence come from distant places to learn and be part of the company. Some Indian students studying overseas time their training with the summer vacation, facilitating a visit to their hometown as well," says Dr Bareja.

For companies, this is an attempt to establish their global nature.

"This is an integral part of our globalisation efforts," says the Infosys spokesperson, while Biocon's Dr Bareja at believes it's a mix of factors that sustains the internship programme for the company.

"We believe that we have a responsibility towards the student community from an industry perspective. Additionally, as  part of our corporate social responsibility initiatives, education forms a significant focus. The spin-offs are that some good students are recruited," he says.

Image: Rahil Shaikh

Click here for more Specials!