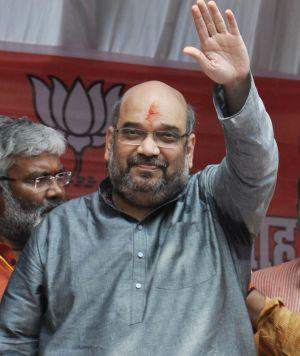 Bharatiya Janata Party President Amit Shah on Tuesday rejected the Uttar Pradesh government panel report on Saharanpur riots which indicted its MP, saying that since committee members belonged to ruling SP, the result was pre-decided.
"Riots took place in Saharanpur. SP supremo Mulayam Singh Yadav realised it was being discussed that law and order situation in the state is not good. He constituted a committee with members from his own party," Shah said while addressing party workers.
He claimed the panel report was pre-decided.
"It was decided what report will come, because the committee was that of SP. If committee of a political party submits report that BJP is involved in this riots, then it was bound to be like that, because the committee was that of SP," Shah claimed.
The 5-member committee headed by UP minister Shivpal Yadav, which inquired into the July 26 violence in the western UP district that left three persons dead, has alleged that local BJP MP Raghav Lakhanpal provoked the rioters which led to attempts to torch shops, according to sources.
Lakhanpal had trashed the allegations saying they reflected the "low level politics" of SP which was trying to "appease" a particular community ahead of Assembly bypolls in Uttar Pradesh.
"Mulayam Singhji 22 crore people of the state will not get misled by such a report. People of UP know who is orchestrating riot," Shah said.
Referring to BJP's landslide victory in Lok Sabha election results in UP, he said it was hoped that SP-led government would understand the indication given by the people.
The BJP president, who led the party to an impressive win in the general elections in the state, however alleged that with formation of NDA government at the centre, citizens of UP have to bear the brunt of misrule of SP-led government.
Shah claimed the law and order situation in the state is grim and alleged that the administration was taking lopsided action.
Photograph: Sandeep Pal