What did Amar Singh and Mulayam Singh Yadav discuss at breakfast? Sharat Pradhan tries to find out.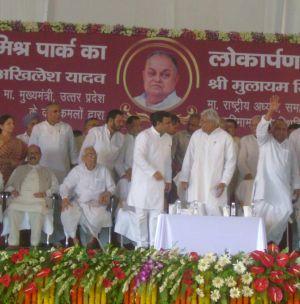 Is Amar Singh returning to the Samajwadi Party?
Singh's breakfast meeting with Mulayam Singh Yadav on Tuesday morning was his second meeting with the party supremo in days.
A few days ago, Singh and Yadav appeared at an event in Lucknow, the first time they have been seen together in public since the former was turned out of the Samajwadi Party.
Shivpal Yadav, Mulayam's younger brother and Uttar Pradesh's multiple portfolio minister, was also present at Tuesday's breakfast.
One person who was not present: Chief Minister Akhilesh Yadav.
Singh revealed that he had met Shivpal Yadav several times since his exit these past four years and was all praise for the Yadav brothers. When a reporter asked about his equation with Mulayam's cousin Ram Gopal Yadav, the party general secretary, and the powerful UP minister Azam Khan, who has been critical of him, the usually voluble Amar Singh turned away.
Ram Gopal Yadav and Azam Khan, it is said, persuaded Mulayam Singh to remove Amar Singh from the party.
What had transpired between him and the Yadavs on Tuesday morning?
"Why should I tell (you) what we discussed?"
"Don't attach political undertones to my meeting. I did not come to do any politics."
What about Akhilesh Yadav?
"I don't wish to say anything about him. He is like a son to me."
Image: Mulayam Singh Yadav, extreme right, and Amar Singh, extreme left, at the inauguration of the Jnaeshwar Mishra Park. in Lucknow. Photograph: Sandeep Pal