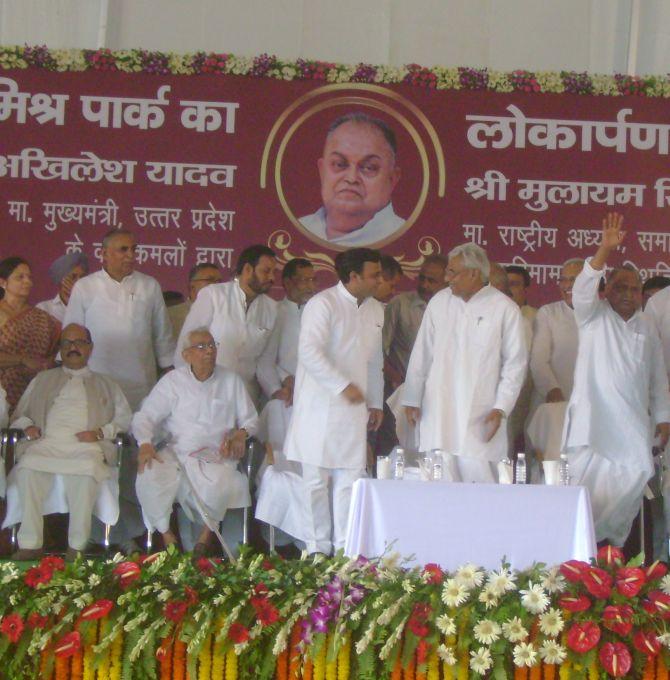 Rajya Sabha Member of Parliament Amar Singh on Tuesday shared the dais with Samajwadi Party supremo Mulayam Singh Yadav for the first time in four years after bitter parting of ways with the party, even as he insisted that political connotation should not be attached to this gesture.
Singh, who was invited to the programme for inauguration of over 300 acres park in memory of SP veteran Janeshwar Mishra, congratulated Mulayam and his son and Chief Minister Akhilesh Yadav for developing it. He also reminisced that he would call himself 'Mulayamwadi', referring to his intimacy with the SP supremo before his expulsion in 2010.
"Janeshwarji did not have two-three acre land in his lifetime, but Mulayam and Akhilesh developed such a massive park on more than 300 acre land in his memory. I want to thank Mulayam Singhji for inviting me because it is a memorable moment," he said.
Narrating an anecdote from one of his meetings with Mishra, Singh said the veteran leader had once asked him if he was literally a 'samajwadi', to which Singh had replied he was a 'Mulayamwadi'.
"Once Janeshwarji told me, Amar whatever you have, you've got it without much struggle. He told me had I gone to jail, fought elections, toiled under the scorching sun, met with people, then I would have been a 'samajwadi'.
"I had told him that going by your definition I am not a 'samajwadi' at all, I am a 'Mulayamwadi'," Singh said. Earlier, Singh had said it would be "extremely wrong" to add "political connotation" to his attending the programme.
"He (Mulayam) requested me and I have gone ahead. To add political connotation to it or to look at it in political light is extremely wrong," the Rajya Sabha MP said. Praising the veteran socialist leader, Singh said Mishra was a very simple person.
"I have never seen such an honest person like him. Whether criticism or praise he used to do it publicly. There was no superficiality in his personality," he added. Senior UP Minister Mohd Azam Khan, who did not share cordial relations with Singh, was conspicuous by his absence from the function.
During the programme, Singh sat in the front row but not very close to Mulayam or Akhilesh and sat alongside the SP chief's younger brother Shivpal Yadav.
Singh, a former national general secretary of SP, had contested Lok Sabha polls on Rashtriya Lok Dal ticket from Fatehpur Sikri seat of UP but lost. His Rajya Sabha tenure is also going to end later this year.
SP had expelled him and actor-turned-politician Jaya Prada on February 2, 2010 on the grounds of indiscipline and indulging in anti-party activities that the party claimed dented its socialist image.
Meanwhile, Mulayam blamed the indifference of some of the party's leaders and workers as the reason behind its drubbing in Lok Sabha elections. "A number of our people had given up (before the Lok Sabha elections) and did not work wholeheartedly. We got a majority in the Assembly elections, but were wiped out in Lok Sabha polls and we could clinch only five seats," he said.
Speaking at the inauguration function of a 376 acre park in memory of SP veteran socialist Janeshwar Mishra, Mulayam said his organisation "failed" to stop the so-called 'Modi wave' in the state. Attacking the BJP government at the Centre, he said that it promised to resolve the problems, but it neither has nor will it be able to do so. "They promised to give jobs, but they have not done it so far, nor they would be able to do so. They promised to get back our land in possession of China and Pakistan, but they have neither done it nor will they be able to," Mulayam alleged.
The SP supremo said that despite having only five members in Lok Sabha the party was raising issues effectively. "On Monday, there were only two members of Parliament. We raised the issue of students in the House and it had to be adjourned for two hours. Later the Minister came and he had to assure that the government will concede to the demand," he said. Mulayam said that the SP government has and will fulfill all the promises. Regarding Janeshwar Mishra he said that the veteran socialist practiced what he preached and throughout his life he struggled for the cause of workers, farmers and poor sections.
Speaking on the occasion, Chief Minister Akhilesh Yadav claimed that in the coming days 'Janeshwar Mishra Park' would be the biggest in the country. "This is not a memorial built of stones, but greenery has been ensured in this park," he said while taking a dig at memorials and parks constructed during previous Mayawati regime.
Akhilesh said as the government has the mandate of the people it would be under close scrutiny, but the decisions taken by it so far have not been taken by any other state. "We have undertaken metro project at three places. Tell me any other place where this is being done. We are constructing new roads, Agra-Lucknow being one of them," he said.
The chief minister said that his government launched 108 and 102 ambulance service which no other state has done. "The government is working without any discrimination," he said. The JaneshwarMishraPark is being developed on 376 acre land with a cost of Rs 352 crore. The park with a lake spread over 40 acre land would have facilities like gandola boat, walkway, jogging track, horse riding, children play area and amphitheater.
Image: Mulayam Singh Yadav and Amar Singh share the dais at the inauguration of the Janeshwar Mishra Park. Photograph: Sandeep Pal