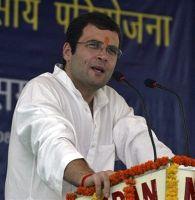 Congress President Sonia Gandhi is learnt to have slowed down her activities over the last few weeks, say highly placed sources in the party.
The Congress president, who has curtailed her activities of late, made an exception and visited riot-hit Muzaffarnagar in Uttar Pradesh a couple of days ago. Sources said she was in poor health for most of the night after her visit.
Sources say doctors and her family have advised her rest. Sonia Gandhi has not only cut down on her public appearances but has also reduced meeting visitors.
Stepping in for the president is Congress Vice President Rahul Gandhi who has drawn up a comprehensive programme for election campaign, say sources. He has already held two meetings in election-bound Rajasthan over the period of one week.
More election campaign rallies have been planned for the Congress vice president, who has now begun to address rallies without the presence and support of his mother. Sonia Gandhi is, however, scheduled to travel to Barmer in Rajasthan on September 22 for the inauguration of an oil refinery, a key election promise of the Congress party.
Rahul Gandhi has been handling the day-to-day election related work of the party. Two days ago he had long meetings with the All India Congress Committee general secretaries in charge of election bound states along with the chairmen of the screening committees for the various states.
The vice president has been interacting with the Digvijaya Singh committee to finalise advertisements and publicity campaigns of the party. Along with Congress leader Ajay Maken Rahul Gandhi has devised workshops to train new spokespersons for panel discussions in TV studios where they are being taught how to aggressively take on the BJP in 3 minutes.
There is a hunt on for new talent and articulate spokespersons with many of the old ones likely to be slowly phased out. Some have already been put on the retirement line.
It is learnt that a rapid medical team has been put in place at AIIMS hospital in the event of Sonia Gandhi needing urgent medical care.
In the monsoon session of Parliament, Sonia Gandhi had suddenly taken ill after she exerted herself in the house when she made a rare speech on Food Security Bill. That night she could not vote on the bill as she was taken to AIIMS hospital.
Normally, during election time, Sonia Gandhi is a frantic campaigner and undertakes rallies in various election bound states. But this time around all that has been left to Rahul Gandhi along with election management, publicity and strategy.
Because of the importance of Uttar Pradesh in the Congress scheme of things, it was felt that Sonia Gandhi's visit to Muzaffarnagar, where a large number of Muslims have had to desert their homes and live in refugee camps, would help the party. It is learnt that she insisted on making the trip to Muzaffarnagar and meet the affected families and riot victims.