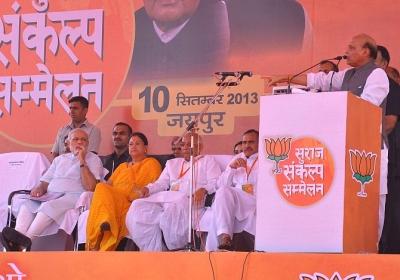 The dates for the forthcoming assembly polls in Rajasthan are yet to be announced by the Election Commission, but on the ground the battle has already begun between the Congress and the Bharatiya Janata Party.
While three top leaders of the Congress are all set to visit the desert state this week, BJP President Rajnath Singh and freshly-minted PM candidate Narendra Modi have already held rallies in the state earlier in September.
Congress Vice President Rahul Gandhi is in Baran district of Rajasthan on Tuesday to lay the foundation stone of the Chhabra super critical power plant, while Prime Minister Manmohan Singh will be in Kishangarh on September 21 to lay the foundation stone of a brand new airport.
The very next day, United Progressive Alliance Chairperson and Congress President Sonia Gandhi will be in Barmer to inaugurate the refinery and the mainline electric multiple unit coach factory in Bhilwara.
Rahul had even addressed a rally at Udaipur a week ago.
The Ashok Gehlot-led Congress government has claimed that all these programmes are part of the administration's development efforts.
Only, these Congress leaders will also address the public during these occasions.
With such mass meetings being organised at the drop of a hat, one can gauge how important these assembly polls are for both national parties and how expensive the forthcoming electoral campaign will be.
"In these assembly polls, which will be a run-up to the Lok Sabha elections, not only will muscle and money power rule the roost but the electoral campaigns will also use information technology sources in a major way," observed senior journalist Narayan Bareth.
Both parties have already organised state-wide yatras.
While the Congress had organised the Sandesh Yatra, political rival BJP had promptly put together the Suraaj Sankalp Yatra.
Taking a cue from them, Kirodi Lal Meena, member of Parliament from Dausa, is also planning to take his campaign to the rural areas and use a chopper to travel during his campaign.
Meena had joined former Lok Sabha speaker PA Sangma's National People's Party earlier this year.
Some BJP leaders have raised questions about where Meena is getting his funds from.
"Despite transportation getting costlier, hundreds of vehicles are being used to ferry supporters from across the state. Interestingly enough, just like theme-based marriages, now theme-based stages are supposed to be erected in Rajasthan, like the ones that look like the Red Fort and Parliament," added Bareth.
These developments have alerted social activists, especially those who are fighting to bring political parties under the purview of the Right to Information Act.
"We will evaluate expenses of every party from now till the end of the election and also their expense reports that are submitted to the Election Commission. It will be a major challenge for us, so we are going to hold a meeting with other non-government organisations on September 24 to discuss this issue," informed social activist Nikhil Dey.
Image: The BJP rally at Jaipur ' Photograph: Rohit Jain Paras