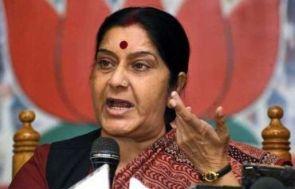 It was a faux pas by Treasury Benches members when they voted against a clause in the Food Security Bill in the Lok Sabha on Monday night, thinking it was a division on an amendment moved by the Leader of the Opposition Sushma Swaraj.
Swaraj moved an amendment to Chapter VIII of the Bill which states that in case the government is not able to provide the full quota of foodgrains it will pay cash for the worth of the remaining grains.
She said this cash will be misused by the male head of the family who will go straight to the liquor shop while the women and children will go hungry.
Following this, Speaker Meira Kumar put the Chapter for voting. UPA members thought this was a vote on the amendment moved by Swaraj and voted against.
There were 261 noes and 101 ayes of the total of 362 votes cast.
This led to a commotion in the House with the government realising its mistake while BJP members were on their feet in joy. Finance Minister P Chidambaram went to the Chair to explain. Congress MP Sandeep Dikshit and Parliamentary Affairs Minister Kamal Nath held discussions with Secretary General T K Vishwanathan.
Chidambaram and others asked the Treasury Benches to use slips to vote again.
Vishwanathan went up to Swaraj to discuss the matter.
Meanwhile, Swaraj and the BJP members said the votes cannot be recast as this is against the rules.
Finally, when Kamal Nath made a request to Swaraj and BJP Parliamentary Party Chief L K Advani, the party yielded.
"There has been some confusion and there was a technical fault," Nath said.
Yielding to the government's request, Swaraj said "normally this is not done. Slips are given for those whose votes are not cast. Since there is some confusion, the vote can be cast again," she said.
The clause was adopted when another round of voting took place.