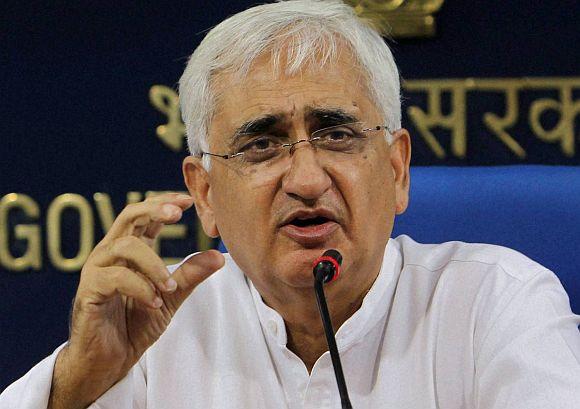 Against the backdrop of chill in relations over the beheading incident, India on Monday said ties with Pakistan can move forward in a 'sensible and calibrated' way once the 'dust settles'.
"I think it is important that we let little time go by so that the dust, as it was, settles. Then in a sensible and calibrated manner we can move forward," External Affairs Minister Salman Khurshid told mediapersons in New Delhi.
He was asked to comment on recent remarks of Pakistan High Commissioner Salman Bashir on the killing of soldiers on the Line of Control in Jammu and Kashmir. Bashir has in television interviews denied the Pakistan army's involvement in the beheading of an Indian soldier.
Khurshid said the situation on the Line of Control was 'a lot better than it was a few days back'.
"I would simply say, we should not react to every statement. I don't think that every statement made in the domestic context should necessarily be treated as the last word," Khurshid said.
On Pakistan Foreign Minister Hina Rabbani Khar's suggestion for talks with her Indian counterpart to reduce tension, Khurshid said her media statement cannot be described as an offer.
"Well clearly it can't be described as an offer. I think there were suggestions on how to move forward and the possibility that it could be done one way or the other. And of course the suggestion came through the media," he said.
Khar's remark had come in the backdrop of Islamabad's suggestion for a United Nations probe into the killing of soldiers.
Khurshid said these were matters where entire atmospherics and entire context need to be carefully studied and analysed from time to time before taking any further steps. "We have already said that we believe moving from any attempt to suggest third party intervention to bilateral interface is a positive signal," Khurshid said.
"The fact is that things have been quiet on the Line of Control. The fact that our Directors-General of Military Operations have been in touch in a meaningful way, I would think that this is a welcome shift in the right direction," he said.
The relations with Pakistan dipped after the killing of two Indian soldiers and beheading of one of them by Pakistani troops in Mendhar sector in Jammu and Kashmir, which India said violated the ceasefire agreement of 2003.
India reacted angrily to the incident with Prime Minister Manmohan Singh declaring that it cannot be business as usual with Pakistan. Pakistan had suggested a probe by the UN Military Observer Group in India and Pakistan, a set up which India never approved of and later agreed to a flag meeting of top military officials.
The ceasefire has been holding since the DGMOs of India and Pakistan met last week.