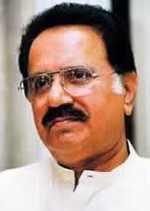 Pakistan Commerce Minister Makhdoom Amin Fahim has called off a scheduled visit to India to attend a business meet later in January, against the backdrop of tensions between the two countries over ceasefire violations along the Line of Control.
Fahim told the media that he had decided against travelling to India as the business meet would clash with an upcoming meeting between a government team and cleric Tahir-ul-Qadri, who had led a massive protest against the ruling Pakistan People's Party last week.
He said that as one of the signatories of the agreement between the government and Qadri, he had to attend the meeting to be held in Lahore on January 27 to discuss the cleric's demands.
However, official sources said Fahim's decision was linked to the spike in tensions between India and Pakistan over a string of clashes along the LoC in Jammu and Kashmir that left two Indian soldiers dead, while Pakistan claimed that three of its soldiers were killed.
The directors general of military operations of both the sides recently decided to take steps to de-escalate tensions.     
Fahim and Commerce Secretary Munir Qureshi were scheduled to visit India during January 27-29 to participate in a Partnership Summit being organised in Agra.
The Pakistani minister was invited to the meet by his Indian counterpart Anand Sharma.
An aide to Fahim had last week denied that his visit to India had been cancelled. The aide had told PTI that a formal proposal regarding the visit had even been forwarded to the prime minister's office.
Official sources said Prime Minister Raja Pervez Ashraf was in the loop about the decision to call off Fahim's visit.
In recent weeks, differences had emerged between Fahim and Foreign Minister Hina Rabbani Khar over the issue of giving Most Favoured Nation-status to India.
Media reports have said that Khar has held Fahim responsible for the delay in giving MFN-status to India.      
Pakistan missed the December 31 deadline for phasing out a negative list regime for trade and giving MFN-status to India.
Fahim subsequently said the process had been delayed.
There has been no official word on when Pakistan will complete the process and reports have suggested that the matter may be left for the new government that is elected in polls scheduled to be held by mid-May.
Fahim is among a group of ministers who have contended that the concerns of several industries should be addressed before MFN-status is granted to India.