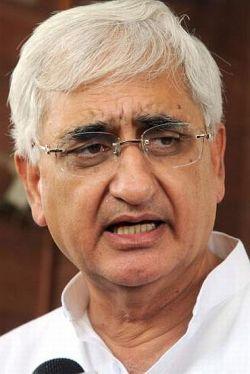 External Affairs Minister Salman Khurshid on Wednesday said Prime Minister Manmohan Singh during meeting with his Pakistani counterpart Nawaj Sharif on September 29 in New York will obviously send 'some significant signals' to Islamabad about India's concerns on cross-border terrorism.
He said that while he is not able to suggest the agenda of the one-on-one meeting between Dr Singh and Sharif, the issue of terrorism will definitely be raised.
"But clearly the work that we have done on this includes conveying expectations of (India) or sending some significant signals of our concerns, especially about accountability of people involved in 26/11 incident, people who planned, were involved and executed it and who happened to be in the custody of Pakistan or on their soil. We are looking for accountability and we have facilitated the visit of the (Pakistani) judicial commission which will allow cross examination," Khurshid said during a briefing at the permanent Mission of India in New York.
"We expect that the evidence will now be admissible by the orders of the courts in Pakistan. The new prosecutor being appointed by Pakistan is a good signal. And we hope that this will be a matter to proceed with expedition. In addition to this we have consistently said that the atmospherics should show the clear indication or desire to overcome all the elements of the negative nature that we had to encounter in the past," the minister said.
But he added that how many issues and what kind of emphasis and depth would be taken up during this meeting would be known only after the meeting. He said that one critical thing for India is dismantling of the infrastructure on terrorism and it goes without saying that it is very significant because it is something going on for a long time.
"In terms of engagement, every time we have discussions with Pakistan, there are certain issues that we consider of great priority, will obviously remain," Khurshid said alluding that some of the outstanding issues like Jammu and Kashmir might not be resolved at all during this meeting.
"For us to expect that we will get complete satisfaction in one meeting obviously would be too much to home for. But we are hoping that we deserve to have movement on issues that are important to us both to the government and people of India. This I am sure the prime minister will have in mind when he meets his Pakistani counterpart. The actual contours, depth and satisfaction of delivery are best left after the prime minister's meeting," he said in a response to a question.
Dr Singh will also meet with his counterparts from Nepal and Bangladesh. "The dates and time have not yet been finalised," officials said.
Greater connectivity among SAARC members
The South Asian Association for Regional Cooperation foreign ministers took stock of how much progress the grouping has made since the 67th UNGA session in 2012.
At an informal luncheon meeting on the sidelines of the UNGA, the members discussed the issues and progress that has been made since last year, with External Affairs Minister Salman Khurshid saying that there is need for greater connectivity among the members.
"On behalf of India I flagged a few appropriate issues such as the recognition of degrees of South Asian Universities. Some of those formalities have to be completed by some of our friends in the SAARC movement. Similarly, there are issues of ratification of various agreements," Khurshid told journalists during a briefing.
He said a SAARC summit was proposed in June 2014 in Nepal but because Bangladesh has a budget session at that time the timing would be discussed later.
He also admitted that some other things like ministerial meetings have not been taking place in between summits because of the members' inability to find a date suitable for everyone. "This needs to be taken care of as well," Khurshid said.
Besides his bilateral with US Secretary of State John Kerry and participation in the SAARC meeting as well as the meeting on India Brazil and South Africa (IBSA), which was held at the Permanent Mission of India, Khurshid also had bilateral meetings with his counterparts from Palestine, Egypt and China.
"I had important discussions today with Palestine, Egypt and discussed how we can enhance engagements from the past because of the changed circumstances and what further can be done, and how we can take and give advantage to our friends in Palestine and Egypt."
"I tried to understand what role India can take in the peace process as far as the Palestine and Israel talks are concerned. We also took a look at the steps that are being taken in Egypt for a new constitution, or an amended constitution," the minister said.
"We have extended our full support both for economic rehabilitation and reconstruction as indeed for capacity building and other assistance that they may require and to help their society to have lasting peace and security," said Khurshid.
Image: Foreign Minister Salman Khurshid