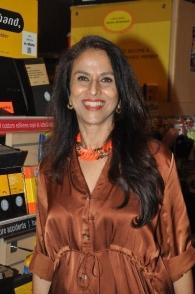 Columnist Shobhaa De was the target of saffron ire over her comments on making Mumbai a separate state.
"Maharashtra and Mumbai? Why not? Mumbai has always fancied itself as an independent entity, anyway. This game has countless possibilities," De had tweeted after the Congress announced its decision to create a separate Telangana state.
The Shiv Sena and Maharashtra Navnirman Sena hit back at De, however she refused to apologise for her remark.

Slammed by various politicians for her suggestion, De told a Delhi-based television channel that her tweet was satirical and that she saw no reason to apologise for it. "What I have said is not offensive. It was in the context of Telangana saying that what is happening in Andhra Pradesh could also happen in any other state. It is a political maneuver. I have at no stage recommended, endorsed or suggested that Maharashtra should separate from Mumbai," she told NDTV.

"It was satirical, they missed the context," she added.
Should De apologise for her tweet? Tell us what you think.

Image: Columnist Shobhaa De