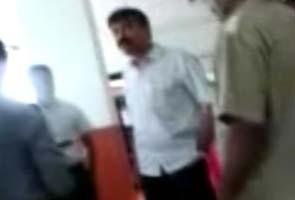 Shiv Sena member of Legislative Assembly Anil Kadam, who had allegedly abused women staff at a toll booth near the Pimpalgaon Baswant on Mumbai-Agra national highway two days ago, submitted his resignation to party chief Uddhav Thackeray on Saturday, sources said.
The Niphad MLA gave his resignation to Thackeray at the Ojhar airport in Nashik, while the latter was on his way to Shirdi to address a rally, Shiv Sena district unit chief Jayant Dinde told PTI. "Owning the responsibility of the toll-booth incident, Kadam tendered his resignation," Dinde said.
Video footage aired by a private news channel had purportedly showed Kadam abusing the all-female staff at the booth. Police said Kadam apparently lost his cool because the staff demanded toll from him, while MLAs are exempted from toll. He was travelling in a private car at the time.
An all-party protest march led by former MLA and senior Nationalist Congress Party leader Dilip Bankar, had been taken out on Friday over the incident at Niphad in the district.
Meanwhile, sources close to Uddhav Thackeray told PTI that the Sena chief is yet to decide on the future course of action, after receiving Kadam's resignation.
"Kadam handed over the resignation to Uddhav Thackeray, saying he was doing so as he does not want the party's image to be maligned over the toll-booth incident," sources said.
"The Sena president has said he would examine all sides of the issue and then take a final decision (on the resignation)," they added.

Image: Video grab of Shiv Sena MLA Anil Kadam at the toll booth near Pimpalgaon Baswant on Mumbai-Agra national highway