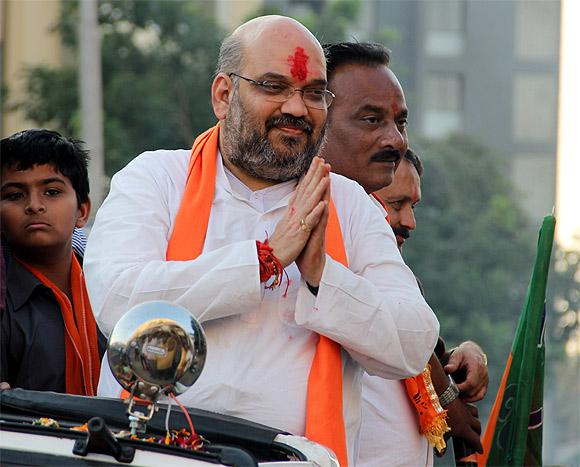 Bharatiya Janata Party chief Amit Shah on Tuesday took a dig at Samajwadi Party supremo Mulayam Singh Yadav over his meeting with Amar Singh, saying Samajwadi Party will not get revived by bringing the former party leader back but by reaching out to people.
Singh's meeting with Yadav had fuelled speculation about his rejoining the party.
The occasion provided ammunition to the saffron party supremo, who during his address to BJP workers here said, "They (the SP) are trying to conciliate with their old friends. They go to bring back Amar Singh. The SP won't get revived by bringing Amar Singh back, reach to the people."
Shah, on a maiden visit to Lucknow since becoming the BJP president, also claimed that the success story of the party in Uttar Pradesh during Lok Sabha polls would be repeated in assembly elections in four states, including Haryana and Maharahstra, but said the UP Assembly elections would the real test.
"I have no hesitation in saying the party will repeat its massive success story of UP during Lok Sabha polls in assembly elections of four states, but the real test is UP Vidhan Sabha elections," Shah said.
"The Lok Sabha poll is foundation of coming state assembly elections. My first priority is to form BJP government in UP. I have faith that we will form government with two-third majority," he said.
He called upon the cadre to struggle with the state government and become the voice of the people. He also appealed to the workers to undertake rescue and relief work in flood-affected areas of the state.
"Whether the government does or not, our workers should reach flood-affected areas and serve the people," he said. On the issue of power crisis in the state, the BJP president alleged that Akhilesh government had no intention to resolve it.