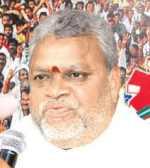 Senior Telugu Desam Party leader and former union minister Kinjarapu Yerran Naidu died in a road accident in Srikakulam in the wee hours of Friday. His car hit an oil tanker around 2 am and he died while undergoing treatment at the Rajiv Gandhi Institute of Medical Sciences in Srikakulam an hour later.
Police said he received serious injuries on his chest and all the efforts of the doctors to save him failed.
Several others including the district Telugu Desam president Choudhary Narayanmurthy were also injured in the accident.
Fifty-six-year old Yerran Naidu was returning from Visakhapatanam to his village after attending a funeral and a wedding when the accident took place. He was reportedly in the driver's seat.
His last rites will be performed in his native village in Nimmada.
A backward class leader, Yerran Naidu was a very popular figure in the Srikakulam
district and one of the major factors in making north Andhra a fortress of the TDP.
A law graduate, Yerran Naidu started his political career in 1982 when he joined N T Rama Rao's regional party Telugu Desam. He was elected to the state assembly four consecutive times before TDP President N Chandrababu Naidu made him shift to national politics. He was again elected to the Lok Sabha in four consecutive elections and became the Union rural development minister in the United Front government in 1996.
He also played a key role in TDP's support to the first Bharatiya Janata Party-led National Democratic Alliance government in 1998 and 1999. However, he lost the Lok Sabha elections of 2009.
Yerran Naidu had also survived a Maoist attempt on his life a few years ago.
A shocked TDP President N Chandrababu Naidu left for Srikakulam from Mahbubnagar district, where he was in the middle of his
padyatra
programme. "The party has lost a very good leader. No one can fill this void," Naidu said.