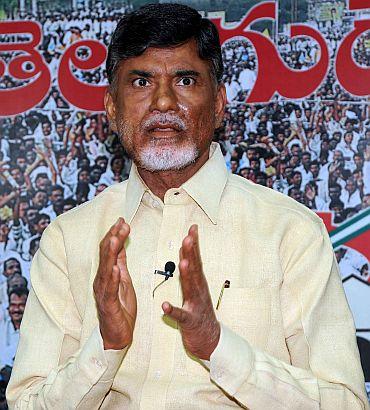 Telugu Desam Party president N Chandrababu Naidu suffered a minor injury to his back in a freak mishap, when the dais from which he was addressing a gathering, collapsed at Gadwal in Mahbubnagar district late on Friday night.
The leader of opposition, who tried to continue his foot-march after the mishap, complained of back pain after walking about a kilometer.
Local doctors, who examined him, noticed swelling on Chandrababu's back and advised him immediate rest. He then discontinued his foot-march and got into his bus for rest, according to TDP senior Member of Legislative Assembly Errabilli Dayakar Rao.
Dayakar Rao, accompanying Chandrababu on the yatra, told PTI over phone from Gadwal that there was 'nothing dangerous', but only a swelling on the back.
"He has been advised rest. A team of doctors from Hyderabad is coming for further examinations. An X-ray will be taken to determine the nature of the injury," he added.
Chandrababu's wife Bhuvaneswari and son Lokesh rushed to Gadwal immediately after the mishap. Whether or not the TDP chief will continue his yatra will be decided tomorrow based on doctors' advise, Dayakar Rao said.
The former chief minister completed 25 days of his 'Vastunna Meekosam' padayatra (foot march) on Friday. The make-shift dais collapsed at the end of the public meeting, which Chandrababu addressed as part of his ongoing foot march in Gadwal, as party workers tried to climb onto it en-masse.
Chandrababu had just then finished his speech and was about to leave when the dais gave in. The TDP leader was immediately rescued by security personnel.
"By God's grace and your blessings nothing happened. I am fine," Chandrababu said after regaining composure a while later.
He thanked people for their support and said there were several 'unfinished things' they had to do. "God is with us. We have to do many more things infuture. Let us march forward," Chandrababu said.
He then continued his foot march, but later stopped it.