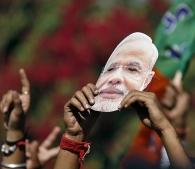 The Shiv Sena on Saturday said that Narendra Modi's "toilets first, temples later" remark show that the Bharatiya Janata Party is not in touch with the views of its prime ministerial candidate.
"Modi had to face flak over the toilet remark. He said Jai Jairam instead of Jai Shri Ram which led to running around in the BJP. The lesson to be learnt from this episode is that not even the BJP now knows what stance he takes," Sena's mouthpiece Saamna said.
"The picture is that of Modi leading and the BJP following. What can we say? All should participate in the toilet building work. As for the temple building work, we will see later," it said.
"Through the 'toilets first, temples later' remark, Modi put forth a courageous thought. It is surprising that the Congress attacked him for that. In fact, Modi is saying what Jairam Ramesh said earlier. So, the Congress should appoint Modi as a brand ambassador for the toilet project and give a big amount as remuneration to the BJP," the editorial said.
"Earlier, when Ramesh put forth his views, BJP, VHP and the Sangh Parivar criticised him. Now, BJP leaders are defending Modi," it said.
The editorial further said that if Modi and Ramesh announce that schools and public facilities will be built on the lands occupied by illegal mosques and madrasas, it will be a true mantra of secularism.
"Build toilets first and temples later," Modi had said at a function organised for the youth on October 2. Modi had said he dared to make this statement even though his image as a Hindutva leader did not allow him to do so.
Uddhav had recently welcomed Modi's elevation as the prime ministerial candidate of the BJP, saying that after samudra manthan (ocean churning), the nectar had emerged.
"Under the present circumstances, if the Congress could be defeated and Hindutva could be promoted, with the country's reins going in the hands of Modi, the Shiv Sena would wholeheartedly welcome it," Uddhav had said.