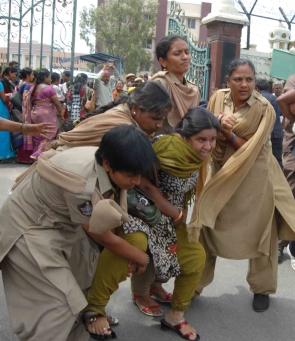 In a bid to stall the formation of Telangana, leaders from Seemandhra region have decided to move the Supreme Court. This decision comes in the wake of a public interest litigation filed by the group on Friday which was admitted by the Andhra Pradesh high court.
Chief Minister Kiran Kumar Reddy, who is leading the movement against the division of the state, held a special meeting with Members of Legislative Assembly from Seemandhra and urged them not to resign.
According to sources, the CM told the lawmakers that those against the formation of Telangana needed to make their presence felt in the state assembly, so they should wait awhile before tendering their resignations.
Those who oppose the division of Andhra Pradesh claim that a new state cannot be carved out when the majority of the people and the leaders are so strongly against the move.
Although the Supreme Court has made it clear that it will not interfere with a political decision, leaders from Seemandhra believe that the court may step in keeping in mind the sentiments of the people and the unstable law and order situation in the state.
CM Reddy will convene a series of meetings on this issue and try to keep his team together till the bill on Telangana is presented in the state assembly.
The anti-Telangana unit of the Congress has decided to convene an all-party meet of leaders from Seemandhra to chalk out a strategy to fight the creation of the new state.
Image: Police try to thwart a protest march against Telangana in Hyderabad ' Photograph: SnapsIndia