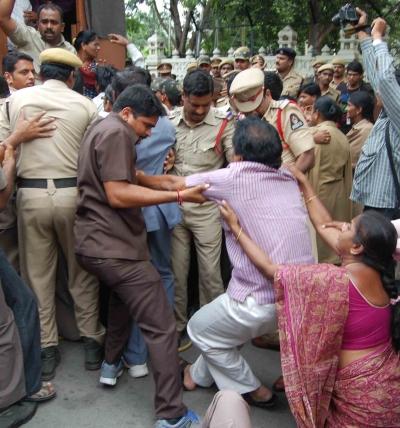 Normal life remained crippled for the second day on Saturday in coastal Andhra and Rayalaseema regions where a bandh is being observed to protest the Centre's decision to bifurcate the state.
Andhra Pradesh Non-Gazetted Officers and other united-AP supporters have given a 48-hour bandh call, while Jaganmohan Reddy-led YSR Congress has called for a 72-hour shutdown in the non-Telangana regions. Both protests began on Friday morning.
Educational and commercial establishments remained closed in Seemandhra (coastal Andhra and Rayalaseema), where normal life was thrown out of gear.
Dwaraka Tirumala Rao, inspector general, coastal Andhra, said, they have deployed additional forces in the wake of attacks on residences and properties of some Congress leaders on Friday.
"Additional forces have been deployed in some areas and the situation is under control. As long as the agitations are peaceful, we have no objection. But if they turn violent, then we will swing into action and file cases," he said.
Sporadic incidents of violence, including attack on public and private properties, were reported on the first day of the shutdown. Offices of the ruling Congress came under attack from agitators in several districts.
Commercial and educational establishments belonging to Pradesh Congress Committee President Botsa Satyanarayana were also targeted. Police have stepped up security at these locations and in sensitive areas.
The pro-united Andhra employees, including the staff of state-run Andhra Pradesh State Road Transport Corporation, are already on strike since mid-August.
Meanwhile, YSR Congress chief Jagan Mohan Reddy is likely to launch his fast-unto-death today against the Centre's move.
Telugu Desam Party President N Chandrababu Naidu has announced an indefinite fast in New Delhi from Monday demanding 'justice' for Seemandhra.
On October 3, the Union Cabinet had decided to go ahead with the creation of Telangana state by dividing Andhra Pradesh.
Meanwhile, Tirupati, which attracts a large number of devotees everyday, wore a deserted look as buses are not plying to the temple town in Chittoor district in view of the ongoing stir by APSRTC employees.
Image: A demonstration to protest the creation of Telangana | Photograph: SnapsIndia