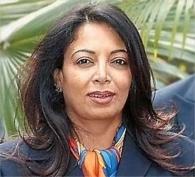 The Supreme Court on Thursday pulled up the income tax department and the Central Bureau of Investigation for not taking action in the last five years on information gathered from tapped phone conversations of Niira Radia with corporate honchos, politicians and others, saying it is "not a happy situation".
A bench of justices G S Singhvi and V Gopala Gowda said the conversations were tapped five years back but government authorities remained idle and questioned whether they were waiting for the court's order to act.
"The tapping was done five years ago, what have they (government authorities) done so far? Were they waiting for court's order," the bench asked. "It is not a happy situation that action will be taken only after court's order," the bench said.
The SC asked the IT department to place before the bench all original records pertaining to authorisation of tapping of Radia's phones.
The court directed the IT department, which had tapped Radia's phones, to apprise it whether the officers entrusted with the task of tapping had informed their seniors about the contents of the recording and whether CBI was informed about criminality with regard to matters referred to in the conversations.
The bench directed the IT department to comply with its order by August 6 when the matter will be taken up for further hearing. The conversations were recorded as part of surveillance of Radia's phone on a complaint to the finance minister on November 16, 2007 alleging that within a span of nine years she had built up a business empire worth Rs 300 crore.
The government had recorded 180 days of Radia's conversations -- first from August 20, 2008 onwards for 60 days and then from October 19 for another 60 days. Later, on May 11, 2009, her phone was again put on surveillance for another 60 days following a fresh order given on May 8.

The apex court had said on Wednesday that it would direct a CBI probe into several aspects arising out of the tapped telephonic conversations of the former corporate lobbyist. The SC, which perused the report and transcripts prepared by its specially constituted team of investigators, had said, "Some of the items highlighted will become the subject matter of investigation."
The analysis of the conversations was done by a six-member special team constituted by the apex court and comprising five from the CBI and one from the income tax department. The special team was set up by the apex court on February 21 to examine the contents of tapped telephonic conversations of Radia.