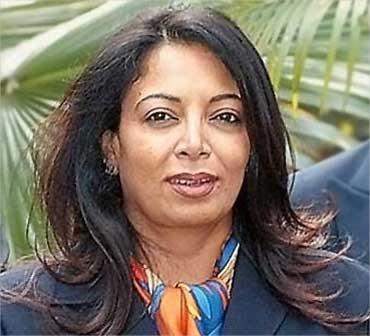 Former corporate lobbyist Niira Radia on Thursday told a special court that she had talked about Cabinet formation to former Telecom Minister A Raja and Dravida Munetra Kazhagam Member of Parliament Kanimozhi who are facing trial in the 2G spectrum case.
Radia, who was deposing as a prosecution witness in the case, also said she had attended meetings on behalf of the Tatas with Raja at his residential office here during November 2008.
"It is correct that during these meetings, I saw some businessmen waiting for a meeting with A Raja and it was quite normal for A Raja to have such meetings," she said.
She said the then Tata Group Chairman Ratan Tata had in November 2007 given her a sealed cover for handing it over to DMK supremo M Karunanidhi but she was not aware of its contents.
"Since I had not read the contents of the sealed cover, I cannot say if it came in public domain or not. It is correct that a letter written by Ratan Tata came in public domain in which he praised the leadership of A Raja," she said.
On being shown the transcripts of her recorded telephonic conversations by the Central Bureau of Investigation prosecutor, Radia said this has to be seen in its entirety. "I was speaking about formation of cabinet with A Raja and also about my conversation with Kanimozhi Karunanidhi. However, this has to be seen in entirety of the context as this is only part of the conversation."
"In (transcripts)....the reference is same, that is about Cabinet formation," Radia told Special CBI Judge O P Saini after she was shown transcripts of her recorded conversations.