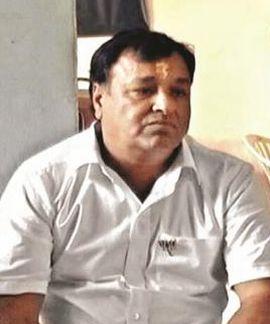 The Central Bureau of Investigation on Saturday filed a chargesheet against sitting Bharatiya Janata Party MP Dinu Bogha Solanki in connection with the murder of RTI activist Amit Jethwa who had waged a crusade against illegal mining in Gir forest, the last abode of Asiatic lions.
CBI charged the MP from Junagadh under section 302 (murder) and 120 B (criminal conspiracy).
As CBI filed the chargesheet before the Chief Judicial Magistrate H S Khutwad at the closing time of the court, the magistrate fixed the next hearing on January 4.
Though Solanki's advocate Mitesh Amin later sought a copy from the court, the magistrate said it needs to be verified.
Solanki was arrested on November 5 by CBI in Delhi after he was unable to give satisfactory answers during the questioning. He was brought to Ahmedabad on the next day on a transit remand and is now in judicial custody.
Gujarat police had arrested six persons, including Shiva Solanki, nephew of the BJP MP, and sharp-shooter Sailesh Pandya who had shot at Jethwa outside the Gujarat high court. All of them were questioned by CBI inside a jail after taking permission from the designated court.
Jethwa was an RTI and environment activist who had filed numerous RTI applications and a PIL before Gujarat high court against illegal mining in the Gir forest region. He was shot dead on July 20, 2010.
Solanki had been given a clean chit by the Crime Branch of Gujarat police prompting the father of the deceased to approach the Gujarat high court.
The crime branch had ruled out Solanki's involvement in the murder. However, terming the probe conducted by the Gujarat Police "far from fair, independent, bona fide or prompt", the high court had transferred the case to CBI.
Image: Video grab showing BJP MP Dinu Bogha Solanki