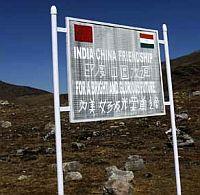 A day after rejecting any incursion by its troops in India's Ladakh region, China said both countries should work together to resolve the boundary dispute to "create good conditions for the sound development of bilateral relations".
Asked about the flag meeting being held by Indian and Chinese armies to discuss the stand-off over People's Liberation Army soldiers' move to erect tents 10 km into Indian territory in Daulat Beg Oldi sector in Ladakh, foreign ministry spokeswoman Hua Chunying told media that she has nothing to add on this.
"Yesterday I already expounded on this issue. I have nothing new to add today", she said.
But, at the same time, she said "I want reiterate that China and India relations have been developing on good momentum and the two sides have kept sound interaction and cooperation on the border issue".
"The two parties should work together to properly solve the issue left over from history though peaceful negotiations so as to create good conditions for the sound development of bilateral relations", she said.
Asked about external affairs ministry summoning the Chinese ambassador to New Delhi Wei Wei to stress on the need for resolving the issue, she said she is not aware of the development.
Hua had said that Chinese soldiers have not trespassed the Line of Actual Control.
"China's frontier troops have been abiding by the agreement between the two countries and abiding by the LAC agreed by the two countries", she had said.
"Our frontier troops have been patrolling on the China's side of LAC", Hua had said, adding, "Our troops are patrolling on the Chinese side of the LAC and have never trespassed the line".