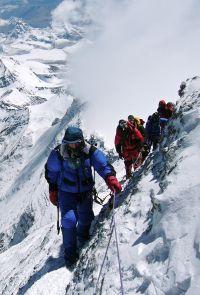 Chinese rescue teams on Monday stepped up efforts to reach 78 tourists, including 13 foreigners, trapped in heavy snow at the base camp of Mt Everest.
A total of 86 tourists were initially trapped at the camp but a late evening report said eight of them had left Rongbuk, the world's highest monastery located at an altitude of 5,100 metres.
The depth of snow near the camp had crossed 45 cm, state-run Xinhua news agency reported.
The local government mobilised three loaders to clear the way to the camp. Roads that were blocked are expected to be cleared by later in the day, an official in-charge of the rescue said.
Doctors and relief materials had been sent to the camp, he said.
The tourists were about to go downhill after sightseeing at the base camp, located 5,200 metres above sea level, when they were stuck in heavy snow, officials in Tibet's Xigaze prefecture said.
No casualties have been reported so far.
Photograph: Reuters