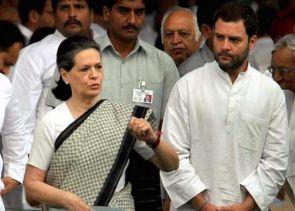 The Congress dismissed as "mere speculation" reports that Sonia Gandhi and Rahul Gandhi are to offer their resignation at the Congress Working Committee meeting on Monday called in the wake of the party's worst-ever electoral defeat.
"I do not want to speculate on speculative news but if something happens like your hypothetical question is concerned, in my opinion, it will be outrightly rejected by all of us", party General Secretary Shakeel Ahmed told reporters.
Ahmed, who is also the party spokesman, insisted that just like the credit for the achievements of the party is collective, so is the discredit for failures.
He was asked about reports that the Congress president and Congress vice president could offer to quit at the CWC meeting taking moral responsibility for the poll debacle.
Another party General Secretary also brushed aside the reports saying such "drama" does not take place at a CWC meeting.
He said this when asked about reports that the two leaders would offer their resignations at the CWC meet and they would be rejected by the members.
As Congress searches for answers for the defeat, daggers are already out in the party ahead of the crucial CWC meet.
Senior party leaders speaking in private are severely critical of some key advisers of Rahul Gandhi while some have chosen to go public finding fault with the ticket distribution.
Those who are in the firing line of a section of leaders include Jairam Ramesh, Mohan Gopal, Madhusudan Mistry, Mohan Prakash and Ajay Maken.