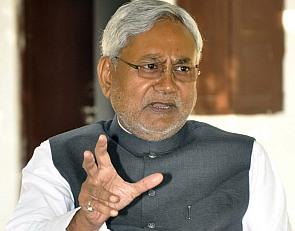 Mauled in the Lok Sabha elections and facing dissidence within, Bihar Chief Minister Nitish Kumar resigned on Saturday but interestingly did not seek dissolution of the assembly injecting a dramatic turn in the state politics.
"The Lok Sabha election results have not been good for the Janata Dal-United. The people's mandate has to be respected. So I have tendered the resignation of my council of ministers. I had led the campaign. So it is my duty to respect take moral responsibility and I must take," he told reporters after sending the resignation to Governor D Y Patil.
Meanwhile, at a press conference in Delhi, JD-U president Sharad Yadav maintained a new government will be formed in Bihar and it will be of JD-U.
He said the new chief minister candidate will be decided on Sunday.
Differences with Rashtriya Janata Dal leader Lalu Prasad will be resolved for a secular alliance. All secular forces will be united, he said.
However, he made it clear that he had not sought dissolution of the assembly and options were open for formation of an alternative government.
Apparently riding a high moral ground, Kumar said he has called a meeting of the JD-U legislature party on Sunday to elect a new leader and maintained that there was no threat to the government which enjoys majority.
In the 243-member Bihar assembly, the JD(U) has 115 members while BJP has 89 and RJD 21. The JD(U) has the support of four members of Congress, one of CPI and two independents. There are six vacancies.
Apart from the drubbing in the Lok Sabha elections in which the JD(U) bagged only two of the 40 seats against 31 of the 40 seats in the state, the chief minister was also said to be facing severe dissidence in the party over breaking relations with BJP last year after Narendra Modi was projected as prime ministerial contender.
Asked why he did not seek dissolution the assembly, Kumar said he had played a leading role in the constitution of the assembly in 2010. The assembly has a tenure of five years and he did not want it to be "disturbed".
Observers believe that the JD-U may stake claim to continue in power under a new leader, who is to be elected on Sunday.
Significantly, at a meeting of the cabinet on Thursday, six of the 14 ministers did not turn up. The tenure of the present assembly is due to expire in November next year.
Stating that though there was no danger to his government, Kumar said "in view of the prevailing situation in the state assembly ... I thought to take moral responsibility of this political defeat and quit."
When told that former deputy chief Minister Sushil Kumar Modi had claimed that 50 JD-U MLAs dissatisfied with him were on the verge of defecting to BJP and had even helped the saffron party in the Lok Sabha polls, he said "Now he has a golden opportunity to form his own govenment as I have not recommended dissolution of the House."
"I have said goodbye ... now they have the opportunity... they are free to do whatever they want," he said.
Asked what would be his stand if the Legislature party wanted him to again lead the state, he said "I know only one thing that I have tendered the resignation of myself and my cabinet and rest of the things the party will decide."
Questioned about his future role, he said he would continue to work as a party leader as he did earlier.
Taking a dig at Narenda Modi over his "good days here again", Kumar said that this must be experienced by all.
"Whatever election results have come we will do a detailed review within the party. But the trends witnessed in Bihar points to communal polarisation," he said adding the campaign mounted by Modi was devoid of ideology and was full of charges and counter charges and personal attacks.
To a question, Sharad Yadav shot back, "we have made sacrifices. No one can raise an accusing finger at us on the issue of standing up for principles. We had even quit the Centre on the issue of Mandal commission recommendations".
The JD-U has 117 MLAs in the House of 243 including Speaker Udai Narayan Choudhary. BJP which was with Kumar in the 2010aAssembly polls has 90 members.
RJD has 24, Congress 4, CPI 1 and Independent 6.
The Mohania (SC) seat is lying vacant due to resignation of JD(U) member Cheddi Paswan. Three JD(U) women MLAs were suspended after their husbands switched over to BJP.
One of them Annu Shukla resigned from Lalganj in Vaishali district and fought the Lok Sabha elections from there as an Independent.
Notwithstanding drubbing in the general election, Kumar justified his party's decision to severe ties with BJP on the principle of ideology.
"The decision was taken on the basis of principle of ideology and not political calculation. If we failed to win seats in Lok Sabha does not mean it was a wrong decision and they (BJP) were right," Kumar said.
"When you take a hard decision the result will be sometimes good and sometimes bad. But, I have no repentance for the decision," he said and again blamed BJP for 'betraying' him by foisting a 'divisive' leader in Narendra Modi.
Meanwhile, Congress said the Bihar Chief Minister did this as he did not want to work as CM when Narendra Modi is going to be the Prime Minister.
"Nitish Kumar has resigned because of his bitter relationship with Narendra Modi who is going to become prime minister as he does not want to work as chief minister with Modi as PM," Congress general secretary Shakeel Ahmed said.
"That is my hunch though Kumar maintained that he resigned on moral grounds as JD-U under his leadership got just two seats in Lok Sabha Polls," Ahmed said.
Nitish Kumar's former ally BJP today said his resigning from was aimed at 'emotionally blackmailing' Janata Dal(U)'s rebellious MLAs.
"It's an attempt to emotionally blackmail JD(U) MLAs majority of whom are in rebellious mood due to high-handedness of the chief minister," former Deputy Chief Minister Sushil Kumar Modi told PTI.
Lalu Prasad-led Rashtriya Janata Dal is watching the political situation in Bihar after Chief Minister Nitish Kumar submitted his resignation to Governor D Y Patil.
"Just like everybody I have also come to know about his resignation. I did not ask him to resign. The people have rejected him. Nothing is clear as of now, so we are watching the situation," Prasad told reporters at his 10, Circular Road residence.
"What JD(U) will do, whether the Governor will accept Kumar's resignation, whether this will lead to fresh elections or bypolls, everything is unclear. So I cannot say anything about the situation. We are just keeping a watch on it," he said.
Complete Coverage: Lok Sabha Election 2014