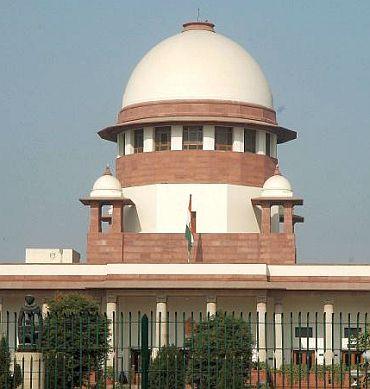 Strongly coming out in defence of the collegium system, the Supreme Court on Monday deplored the criticism of the system of appointment of judges, saying a misleading campaign was on to defame judiciary which would shake people's confidence in democracy.
"There is a misleading campaign going across to defame the judiciary and repeated attempts have been made to spread incorrect information," a bench headed by Chief Justice R M Lodha observed.
"We are more concerned about the purity of the system. Don't try to spread something that is factually incorrect," the bench said and termed as "unfair" the campaign against the collegium system of appointment of judges because of allegations against one or two judges.
Justice Lodha made these remarks while dismissing a PIL that sought a declaration as non-binding a purported decision of the collegium to recommend the name of Karnataka high court judge, Justice K L Manjunath as Chief Justice of Punjab and Haryana high court.
"Who told you that his (Manjunath) name has been recommended for elevation. Because I am the Chief Justice and I head the collegium, I am not sure and I don't know whether there is any other collegium," the CJI said.
Official sources said that the collegium had recommended transfer of Justice Manjunath to Punjab and Haryana high court and by virtue of seniority he could become acting chief justice of the court.
Justice Lodha's remarks assume significance in the context of government's proposal to bring forward a legislation to replace the collegium with a National Judicial Commission for appointment of judges for higher judiciary.
It also came on a day the government withdrew in the Rajya Sabha a bill for setting up a national judicial commission and bringing two bills in the Lok Sabha including a constitution amendment for ushering in a new system of appointment.
The CJI said that wrong facts have been reported in the media and observed that transfer of a judge is one and elevation is another and "we have not made any recommendation" (for elevation).
He said the way a concerted campaign is being carried out to bring judiciary to disrepute, a great disservice is being done to the country. At the outset of the hearing, the bench wanted to know from the petitioner as to who informed him about the name of the judge recommended by the collegium. "
When the bench said Justice Manjunath has not been recommended for elevation, the counsel appearing for the petitioner referred to the media report and suggested that all that has appeared was wrong and action should be taken for that.
The bench replied, "Do you expect us to exercise our judicial function based on what is reported in media?"
The PIL had also sought that in future all recommendations of the collegium on appointment of judges should be put on the apex court website.
Image: Supreme Court