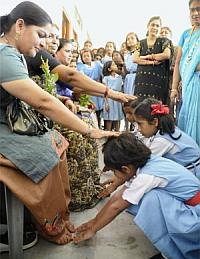 The Centre's move to celebrate Teachers' Day as 'Guru Utsav' and the planned interaction of the Prime Minister Narendra Modi with school children on that day have kicked up a controversy with opposition Congress and others, including Bharatiya Janata Party allies Marumalarchi Dravida Munnetra Kazhagam and Pattali Makkal Katchi, slamming the government.
However, Human Resource Development Minister Smriti Irani described the opposition as "regrettable" and made it clear that the students' participation in the interaction is "voluntary".
Congress leader Manish Tewari termed the renaming of the day merely a "packaging" exercise and said the government is trying to "change packaging and labelling and then trying to pass them off as innovative initiatives".
Two of BJP's Tamil Nadu allies on Monday joined Dravidra Munnetra Kazagham opposing naming Teachers' Day as 'Guru Utsav', with PMK terming it as a discreet attempt to impose Sanskrit.
Leaders of PMK and MDMK, S Ramadoss and Vaiko, demanded that the Centre immediately withdraw the order to rename Teacher's Day as 'Guru Utsav'.
DMK chief M Karunanidhi had already opposed the move, alleging that it was a conspiracy to downgrade Tamil language and society. As the government's decision came under attack, Irani met the media twice on the day to do damage-control.
She said government has not changed the name of the day celebrated as Teachers' Day on the occasion of the birth anniversary of the late President S Radhakrishnan.
The minister said it was an essay competition named 'Guru Utsav' to celebrate teachers' contribution and "if anybody who has objection to the fact that teachers are to be revered is an objection that I regret".
If the essay competition celebrating teachers is opposed, "what appalls me that somebody who would not want teachers or the very foundation of our society to be revered and respected", she told reporters on the sidelines of a function.
While welcoming Prime Minister Narendra Modi's decision to interact with students on September 5, coinciding with Teachers' Day, Ramadoss however opposed the day being called as 'Guru Utsav'.