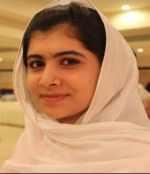 Pakistan President Asif Ali Zardari will visit Britain this week to meet teenage rights activist Malala Yousafzai, who is being treated at a United Kingdom hospital after being shot in the head by Taliban militants.
The visit, scheduled to begin on Saturday, is an "unprecedented gesture" by Zardari because the president does not have any diplomatic engagements in Britain other than meeting Malala, officials of the foreign office were quoted as saying by
The Express Tribune
.
Zardari, who will be accompanied by Foreign Minister Hina Rabbani Khar, will meet Malala after an official visit to Iran, officials said.
In several recent speeches, Zardari has referred to Malala as a symbol of Pakistan's resistance against the Taliban's attempts to enforce its mindset and agenda behind the facade of religion.
Malala and her two classmates were injured in an attack by the Tehrik-e-Taliban Pakistan in the former militant stronghold of Swat on October 9.
The 14-year-old became the symbol of resistance against the Taliban by writing a blog when the region was controlled by militants in 2007.
As the Taliban forcibly shut down girls' school, Malala began speaking out for access to education for girls.
The Taliban said she was targeted for espousing secularism and Western ideals.
Since the attempt on her life, Malala has received messages of support from across the world and some have suggested that she should be nominated for the Nobel Peace Prize.
However, religious hardliners and radical elements in Pakistan have claimed she was part of a US conspiracy to push Pakistan to launch a fresh military campaign against militants in the tribal areas.