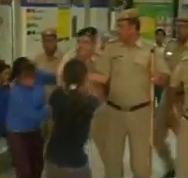 An assistant commissioner of police on Friday slapped a young girl inside a hospital where she and others were protesting against the brutal rape of a five- year-old girl and was immediately suspended. Delhi Health Minister A K Walia was also heckled inside the Swami Dayanand Hospital when he arrived there to meet the victim.
B S Ahlawat slapped the girl at least four times inside the hospital when she and others were on protest. He has been suspended with immediate effect by Police Commissioner Neeraj Kumar.
"We regret for this unfortunate act and B S Ahlawat who was seen on camera, all this misconduct, he has been placed under suspension and departmental inquiry has been ordered. Such kind of act cannot be tolerated," Delhi Police spokesperson Rajan Bhagat said.
The protesters mostly belonging to Arvind Kejriwal-led AAP gathered at the hospital this morning after the news of the girl's ordeal came to light. There was chaos as Walia and Congress Member of Parliament Sandeep Dikshit came to the hospital where protesters also blocked their vehicle.
"We have ordered the personnel to remain calm and peaceful and handle the crowd professionally and no such act will be repeated," Bhagat said.