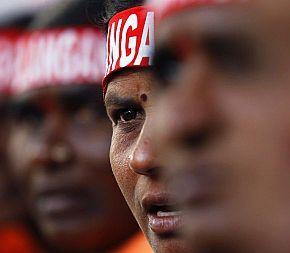 In a political move with astronomical significances, the Union Cabinet on Friday evening gave its nod to the controversial Telangana Bill which will now be introduced in the Rajya Sabha either on February 11 or 12.
The Cabinet took its decision despite widespread opposition to bifurcate the state of Andhra Pradesh from both within the ruling Congress and outside.
The proposed legislation does not provide for grant of Union Territory status to Hyderabad despite demands but the government will announce a special package for Rayalaseema and north coastal Andhra to address concerns of the people there.
Rediff.com has in its possession the full Cabinet Note that was given to the members of the Cabinet ahead of the crucial meeting on Friday evening.
Click here to read the full Cabinet Note on the Andhra Pradesh Reorganisation Bill.