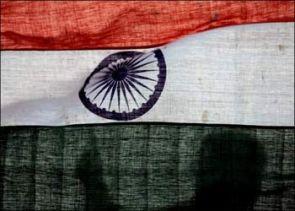 World Bank's wrongful depiction of Indian territories as part of Pakistan and China in a map has prompted an Indian lawmaker to lodge a strong protest.
BJP Rajya Sabha MP Tarun Vijay, who lodged the protest, has also urged the Ministry of External Affairs to take up this matter with the World Bank authorities.
Vijay registered the protest during a presentation on South Asia by Kalpana Kochhar, the World Bank Chief Economist for South Asia, in which the report on South Asia contained a map of India, which according to the BJP leader depicted Indian territories as parts of Pakistan and China.
Vijay was attending the meeting in Washington on Wednesday as a member of the Parliamentary Network on the World Bank and International Monetary Fund, which is a body of parliamentarians from about 100 countries.
The members have divergent views on IMF and World Bank policies and discuss how they can be made more conducive to the local situation and help genuinely in employment generation and eradication of poverty.
On their board of governors from Asia, Vijay is currently on a three-day annual convention on the sidelines of the annual plenary meeting of the IMF and the World Bank.
"While I appreciated the presentation, the moment she (Kochhar) showed a slide which depicted India's wrong map, with entire Kashmir in Pakistan and Aksai Chin in China, without any rider or even the dotted lines along the border, I protested to the chair of the session Ms I Addo of Ghana. I said I can't tolerate my country's wrong map being shown here," the BJP leader said.
"Kalpana Kochhar stopped and said that she respects my sentiments, but said she does not have any control on it. I said that you may not be having control on software, but you certainly have control on what you should show and what you should not show," he said.
"I am going to formally write to the Indian Ambassador about it to take it up with the IMF and World Bank that they should not allow in their publications, which I see very offending to the Indian sentiments, which are wrong, illegitimate and unlawful depiction of map of India," he said.
"I am shocked that the Indian representatives on IMF and World Bank have not protested such wrong depiction of Indian maps in their publications. I am going to take it up in the winter session of the Parliament and ask the government what they have done it so far and why this meek submission to the cartographic assault on Indian sovereignty," he said.