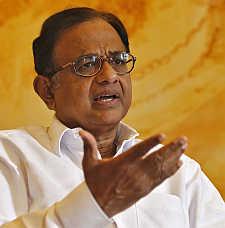 Finance Minister P Chidambaram said the defining challenge for India is augmenting the state capacity and the need to build new organisation charts within government which lead to focused agencies that can be held accountable for delivery on specific objectives.
In his address to the Carnegie Endowment for International Peace, Chidambaram said a wave of new thinking in public administration is now underway in India.
"The defining challenge in India is in augmenting state capacity. How do we construct a competent and ethical state, that will minimally interfere with the rights of citizens in property and contracting, that will focus on preventing or resolving market failures, and that will successfully produce and deliver public goods?" Chidambaram said.
"We need to build completely new organisation charts within government, leading to sharply focused agencies that can be held accountable for delivery on specific objectives," he said. "Those are the first few lines of an absorbing new story that I hope will begin in the near future. And that is the story that I am sure will captivate the world in the next ten to twenty years, as India takes its place as the third or fourth largest economy in the world," Chidambaram said.
In his remarks, he said that while India has greatly de-regulated, there is much more to be done. "However, looming large is the issue of state 'capacity'. We need a state that has in place institutions to resolve market failures. We need a state that will deliver public goods quietly, efficiently and economically. This is the prime challenge in India today," Chidambaram said.
"In a liberal democracy, we need to build the full framework of laws that will clearly articulate specific objectives, empower the arms of government that will enforce these laws, and put in place mechanisms that will ensure performance and accountability," he said. On a US visit to attend the annual meeting of the International Monetary Fund and the World Bank, Chidambaram took a dig at the Indian media as well.
"If you believe what our newspapers and television channels report you may conclude that no Indian politician or civil servant is doing any work," he said. Actually, the pace of work has been quite hectic, he quickly added and then gave examples of what has been done to improve the Indian financial system in 2013.
"So far, we have had four historic events. A commission of eminent people has drafted a new Indian Financial Code: a path breaking piece of law that has been drafted to replace 50 existing laws governing finance with a single, integrated, coherent, modern financial law," he pointed out.
"This is a law which dwarfs the scope of the Dodd-Frank Act," he said. "We have enacted a brand new Companies Act to replace a law that was 57 years old. We have shifted the subject of commodity futures to the Ministry of Finance, something which has not been possible in the US even after the 2008 crisis," he said.
"We have enacted a law establishing the Defined Contribution Pension system under a statutory regulator. The New Pension System is already one of the world's big individual account DC pension systems with over six million participants," Chidambaram pointed out.