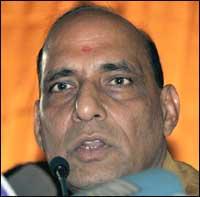 Bharatiya Janata Party national president Rajnath Singh arrived in Amaravati in Maharashtra today from New Delhi to attend the Rashtriya Swayamsewak Sangh 'Manthan Shibir'. Landing at Belora airport, the Bharatiya Janata Party chief drove straight to Vyankatesh Lawns, the venue for the annual national camp of the RSS and the Vishwa Hindu Parishad, where he is supposed to take part in day-long 'closed-door' deliberations.
BJP state president Devendra Phadanvis is likely to reach the venue by evening, sources said. The week-long national 'Manthan Shibir' began on Tuesday and is tipped to see deliberations over the Sangh's strategies and policies for the forthcoming Lok Sabha polls.
Meanwhile, the VHP's international executive president, Pravin Togadia, while addressing reporters, expressed concern over the recent serial blasts in Bodh Gaya and said that time had come to root out the 'local links' of international terrorists.
He alleged that the government had not acted to thwart the attack despite being alerted about the likelihood of the same by intelligence agencies.
"We were hitherto troubled by Pakistan-sponsored terrorism, but now India seems to have become a target for terrorist groups in countries like Afghanistan, Myanmar and Algeria too," Togadia alleged.