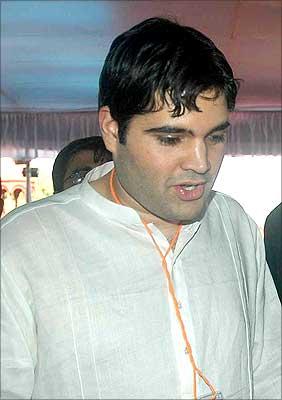 Bharatiya Janata Party chief Raj Nath Singh appears to be grooming his new found blue-eyed boy Varun Gandhi as the party's key campaigner in Uttar Pradesh.
Having finally been absolved by courts of the charges of fanning communal passions through his public speeches at the last state assembly elections in the state, Varun has begun to undertake tours in different parts of the state ever since he was nominated as a key member of Raj Nath Singh's new executive.
Even though there was much heart-burn among those who had put in longer years in the party, Singh did not hesitate to give him the national general secretary's slot.
A virtual vacuum of leadership in the BJP had prompted the party leadership to try out different persons over the past one and a half decade. Most of them could not even retain their own assembly seats, not to talk of taking the party anywhere ahead.
Kalraj Misra, who remained the party's most prominent face in UP for many years just managed to scrape through in 2012, when he contested his first ever direct election. Earlier, he would manage to gain entry either in the state upper house or in the Rajya Sabha.
It was in this backdrop that Varun was being seen as the potential next-gen leader of the party that has a lot at stake at the 2014 Lok Sabha poll. He has already drawn up his own schedule for traversing across the length and breadth of the giant state.
On Saturday last , he came down to the state capital to speak at a 'dharna' organised by the state BJP unit as a mark of protest against the unabated corruption in the United Progressive Alliance government. He was clearly the star of the show.
The prominence given to him at the demonstration was sufficient to convey that he was cut out for a bigger role at the forthcoming Lok Sabha elections. Varun was seated ahead of party veterans such as Lalji Tandon the local member of Parliament, Surya Pratap Shahi, former state president or Dinesh Sharma, the Lucknow mayor, among others.
And the manner in which he issued sermons to all and sundry made it all the more evident of the importance that he has come to wield in the party.
It was therefore no surprise when he started advising his party bigwigs to emphasise on BJP's "core philosophy". He made it a point to remind everyone of how the party's fortunes had dipped when ever the leadership attempted to digress from its traditional 'Hindutva' line.
Significantly, however Varun made it a point not to spell out 'Hindutva' in as many words -- perhaps because he had just managed to wriggle out of the grave charge of making hate speeches in Pilibhit at the last elections.
"I am fully devoted and committed to BJP's core ideology and would be willing to lay down my life for it", he told the gathering amid loud applause.
Even though Varun vehemently refutes that that prominence given to him by the top BJP leadership was essentially because of his 'Gandhi' lineage, insiders firmly believe that much of his clout comes from his connection to India's number one political family.