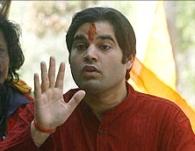 Varun Gandhi on Wednesday gave a new twist to the prime ministerial candidate race in the Bharatiya Janata Party, comparing party president Rajnath Singh to former prime minister Atal Bihari Vajpayee and saying he has the ability to bring together people of different religions and castes.
"His (Vajpayee's) thoughts were so great that every child in the country remembers his rule. I can say with full confidence that if there is any individual in the country who has that ability to bring together people of different religions and castes, then it is our honourable Rajnath Singh," he said while speaking at a public meeting in the presence of the BJP chief.
"There are no two views on it, there is an reflection of Atalji in Rajnath Singhji," Varun Gandhi said while addressing a party rally in Devsara Mandi in the Aonla Lok Sabha constituency represented by his mother Maneka Gandhi
"Singh is a leader with a clean image and a son of Uttar Pradesh. It is the duty of the people of UP to support him so that people with a clean image can come to power," Gandhi said.
Heaping further praise on Singh, Gandhi said, "If there is any one person who can make India great, it is Rajnath Singh. Even after being in politics for 40 years, there has not been a blemish on him."
Varun Gandhi's words in support of Singh, who elevated him to the post of general secretary and included him in his new team of office-bearers, came at a time when there is a growing chorus within the BJP for making Gujarat Chief Minister Narendra Modi the party's prime ministerial candidate in the next Lok Sabha elections.
Asked about Gandhi's comments, BJP Vice President Mukhtar Abbas Naqvi said, "Vajpayee is an inspiration for all of us. We have moved ahead in life with his inspiration."