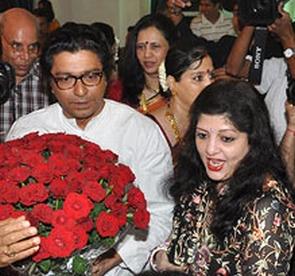 Daring the Maharashtra government to take action against them, Maharashtra Navnirman Sena workers and supporters headed towards Pune on Sunday, without paying the toll, to attend a public meeting to be addressed by their leader Raj Thackeray.
Among those who did not pay the toll was Raj's wife Sharmila Thackeray, who urged people to participate in the agitation against toll launched by the MNS chief.
"We have stopped paying toll. We have not paid toll this time too. Until the government does not give us an account, we will not pay the toll," said Sharmila, who went past the Khalapur toll booth in Raigad district without paying the toll
Urging people to defy the government by "breaking rules", she said that people should show the courage to seek information.
"An agitation intensifies only after people participate in it," she said.
Several other MNS workers also refused to pay the toll at various toll booths.
A few days ago, Raj had asked his followers not to pay the toll, after which his party workers went on a rampage and vandalised several toll booths in Mumbai, Navi Mumbai, Pune, Nashik, Aurangabad and Nagpur.
Two cases were registered against Thackeray for inciting violence, but he was not arrested.
Image: Raj Thackeray with wife Sharmila