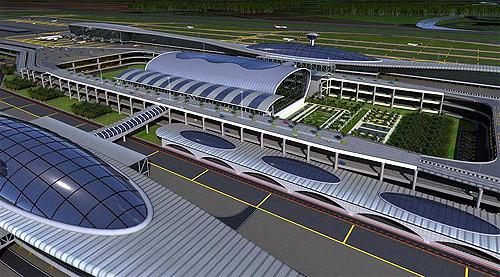 The government-controlled City and Industrial Development Corporation (Cidco) has kicked off the tendering process for the over Rs 14,500 crore (Rs 145 billion) international airport project in neighbouring Navi Mumbai.
"We have invited request for qualification (RFQ) for this greenfield project and we are expecting participation from global players," Chief Minister Prithviraj Chavan said.
The airport, coming up at Ulve village near Panvel, will help reduce the burden on Mumbai international airport, which can handle 40 million passengers a year, he said.
"Number of passengers is estimated to increase to 100 million by 2030. Keeping this in mind, it was decided to develop the Navi Mumbai airport, which will have a capacity of handling 60 million passengers a year," Chavan said.
In the first phase, the airport will handle 10 million passengers. In the second phase the capacity will be expanded to 20 million and on completion, the airport will handle 60 million passengers.
However, the residents of six villages in the region have still not agreed to the rehabilitation package. Cidco is yet to acquire 457 hectares of land in these villages.
The airport, conceived 27 years ago, has been held up due to issues related to land acquisition and environment. Of the 2,268 hectares required for the airport, 1,572 hectares is in Cidco's possession.
The project cost, pegged at Rs 4,766 crore (Rs 47.66 billion) in 1998, has now risen to Rs 14,573 crore (Rs 145.73 billion).