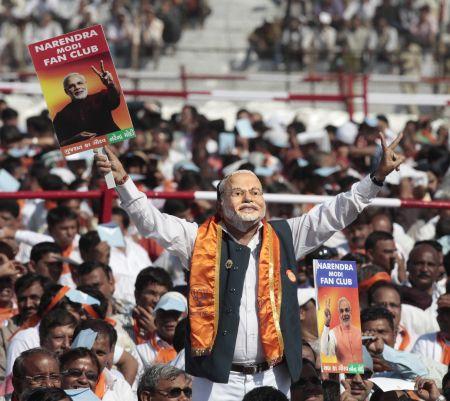 The massive crowds during the Lok Sabha election rallies of Prime Minister Narendra Modi that defined the historic win of Bharatiya Janata Party seem to have taken their toll on a member of Parliament from Rajasthan.
Because of showing too little expenditure figures of Modi's rally held in Banswara on April 12 by the candidate Manshankar Ninama a first-time MP from Banswara, observers Janardhan S and Munnesh Kumar found that the expenditure exceed the limit set by the Election Commission. Following the findings, the observers recommended disqualification of BJP's Banswara MP.
In his expenditure report, Ninama had shown only his campaign expenditure and poll day expenses as Rs 3.45lakh (Rs 3.20 lakh on the campaigning and Rs 20,550 on the polling day). In the shadow register, he mentioned that only a few vehicles were used during Modi's rally, and didn't mention the large number of other vehicles present in the rally.
There were food packets distributed on the occasion, which were not mentioned in Ninama's register. But in the video footage of the EC, the difference can clearly beejhn seen. The commission, while assessing Modi's rally cost, found that the MP's total expenditure was as high as 75 lakh, which happens to be 5 lakh more than the limit set by the commission.
Expenditure observers have demanded Ninama's disqualification under Section 10 A of the Representation of People' Act 1951 and invoking 171 (1) of the Indian Penal Code for failure to keep election accounts.
However, Ninama claimed, "The rally venue was also a prominent pilgrimage for nearby tribals and remains crowded round the year. Everyone present there should not be counted as part of the rally."