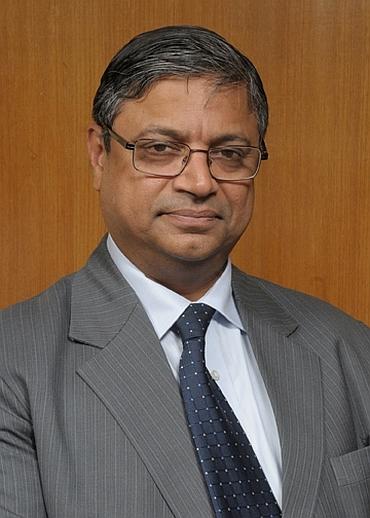 Gopal Subramanium, a feisty character, is not going to let anyone sully his reputation. He is ready to answer any question, any charge, which is more than what the Modi regime might be ready for. One man's integrity and toughness can crack a regime's carefully-built façade. Suddenly its backstage looks murky, says Shiv Visvanathan.
Controversies are common in most regimes. They range from mistakes, controversies, scandals but there are some events that go beyond and acquire the quality of a fable. The story of Gopal Subramanium's aborted appointment conveys that feeling.
This is the story of an outstanding lawyer, a man famous for his 'legal acumen' and 'moral fibre'. Subramanium is the archetype of the professional. An expert, reserved, balanced, known for quality of his advice. He looks benign, a boy scout in his fifties. In fact, he conveys that blend of idealism and wisdom, the sense of a man who has seen much, understood it and yet remains untarnished by it. He is a professional with integrity and it is this exemplariness as a professional that makes him the target of envy.
As an archetypical professional he lets his work speak for him. His record as a lawyer is formidable and his competence goes beyond the technical. He evokes professional autonomy, the refusal to be moved by political partisanship. He has a sense of legal propriety which matures into a quiet ethics. In fact he is the kind of lawyer who teachers encourage you to be: correct, ethical, professional, a goodness which is successful and yet does not need to advertise itself. Yet every spokesperson who goes on the television begins by giving him a good conduct certificate. The record speaks for itself and the reputation stands untarnished.
Yet Subramanium represents the case of a professional who has to face the bureaucratic and political regimes of the day. The latter would like to domesticate him, turn him into a camp follower, and yet his integrity makes him immune to their wiles. Here is a man who has advised the Central Bureau of Investigation, acted as amicus curiae in the Sohrabuddin encounter case.
His interventions proved unpalatable and both bureaucrats and politicians have long memories. In fact the Bharatiya Janata Party realises that this man is a perfect ethical foil to Amit Shah and thus a presence it would rather do without. But polluting goodness is not easy, especially when professionalism rather than being passive has the courage to speak up.
The regimes ask the CBI to report on him. Second, it floats rumours that Subramanium might have been tainted by the Nira Radia case. The politics of rumour works deviously. It can survive on hints and suggest that there is more to come. The lack of transparency also composts the power of rumour, as the full copy of the Radia tapes has never been released by the government. The unstated and the unpublished have succulent power that facts do not have.
If the politics of rumour does not work then the politics of embarrassment might. The regime knows that Subramanium is a meticulous man, where the rigour of his work, runs to the rituals associated with it. He emphasises correctness and propriety as a part of the rituals of fairness and transparency and can be dismayed when he senses their absence.
One must emphasise that Subramanium did not seek the job. The initial announcement was greeted with acclaim because his fellow professionals felt that the court did not always pick the finest talent. Some time back, Subramanium claimed he was assured by the Chief Justice of India that the integrity checks were over. Yet the rituals of deviousness continued. The regimes might have been panicky that Subramanium, given his age, was in line to become the CJI. This very act of anticipation must have panicked them. The prospect of an independent judge may sound formidable for the Narendra Modi regime.
In fact, after 30 days of correctness where not a byte leaked, the regime suddenly leaks the report. Subramanium is embarrassed and puzzled. He realises his case has been separated from the other three judges whose names were recommended by the collegium. True to his ethics, Subramanium realises he was facing a 'trust deficit', something that must have surprised him.
Each act is a minor pinprick but each sullies his immaculate reputation. A man of character has to behave in character and Subramanium resigns. It is precisely what the regime was probably hoping for from a professional. What they did not anticipate is that Subramanium would battle it out.
The regime was having a magical first month. It could do no wrong. Even its callous attempt to raise the height of the Narmada dam was brushed aside but in this case the doubts have cascaded in. The idea of the new Modi so carefully crafted faces a glaring hole. A piece of propaganda confronts real competence and realises the difference.
Subramanium, a feisty character, is not going to let anyone sully his reputation. He is ready to answer any question, any charge, which is more than what the Modi regime might be ready for. One man's integrity and toughness can crack a regime's carefully-built façade. Suddenly its backstage looks murky.
Now questions move the other way. Suddenly it is skeletons in the Modi/ Shah cupboards that are rolling out. The regime seems to panic when questions reach back into a past it has so carefully tried to sanitise. It is the regime that sounds diminished.
Then we confront the joker in the pack. Investigation reports about Subramanium's role in a temple investigation reveal that he prayed for divine help. One being asked about it, Subramanium responds naturally, comfortable in his beliefs and rituals. This is no godless dissenter that the regime could pillory. This is a god-fearing man clear that his god is alone above the regime.
The reports attempt to make it sound irrational, as if he was summoning gods to his side, like a planchette player, but Subramanium smiles at the question convinced that belief and rationality work very well together. Even G K Chesterton's great distinctive Father Brown could not have put it better. Of course, political realists would add that it is better for Modi to suffer a bit of embarrassment now than worry about Subramanium later.
Yet it is clear that for Subramanium, character is destiny and his strength of character that plugs holes into the destiny of the regimes. It is not activist accusations or policy critique, just the ethical character of one man. The Subramanium story now sounds genuinely like a fable where one man's integrity questions the devious rituals of the State. It becomes in that sense a story of hope, feelgood, a fable about the power of ethics withstanding the pressures of politics.
Shiv Visvanathan is a social science nomad.