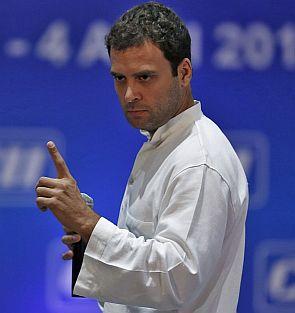 Denying violation of the Model Code of Conduct, Congress Vice President Rahul Gandhi has pleaded not guilty to such a charge and sought to justify his controversial remarks that Pakistan's ISI was in touch with Muzaffarnagar riot victims and BJP was indulging in politics of hatred.
In his eight-page detailed reply to the Election Commission notice for alleged Model Code violation over his remarks, he defended his argument saying he has committed no crime and asked the poll body to view his speeches in totality, sources said.
According to Rahul, he has only stated what people think about and what are facts. In his speeches, he said, he was espousing the views and ideology of his own party and stating what the BJP's ideology was, the sources said.
He has said that as Vice President of Congress, he was entitled to stand by the party's ideology of communal harmony and speak about it as well as about those who are known to propagate communal disharmony, they added.
His reply was sent in a sealed envelope to the Chief Election Commissioner a little ahead of the 11:30 AM deadline set by the poll body. The EC has discussed the reply in its meeting chaired by the CEC but is yet to take a decision.
"The reply has come. It is under examination. A decision will be taken as soon as possible," Chief Election Commissioner V S Sampath told reporters after the meeting.
Asked if the issue was discussed, he said the matter is under examination of the Commission and since it had many other issues to discuss Rahul's case was not deliberated at length and is still under process.
The EC had issued the notice on October 31 for his speeches in which he had said Pakistan's ISI was in touch with Muzaffarnagar riot victims and charged BJP with indulging in politics of hatred.
Rahul, who was earlier asked to reply to EC by November 4, had sought one more week's time to respond, but the Commission granted him only four more days.
The Commission, after examining Rahul's speeches made in Churu and Indore, had asked him to explain why action should not be initiated against him for prima facie violating the Model Code of Conduct.
"The Commission is prima facie of the view that your aforesaid speeches are violative of above-referred sub paras (1), (2) and (3) of Para 1 of the Model Code of Conduct for political parties and candidates," the EC notice had said.
Rajasthan and Madhya Pradesh are among the five states which go to Assembly polls in November-December.